Popcorn joined our family when he was three years old.
Our boys were four, six and eight years old.
It would be fair to say that they grew up together.
Popcorn changed from a wild, untouched colt into a well-trained horse. The boys learned to drive, bought their own cars and are all adults now. 
When I look at family photos I realize how woven together our lives are. I see trips to Maine with Popcorn in tow. I see moving to Texas…with Popcorn in tow. I see the boys headed to summer camp…with Popcorn in tow.
Is it just me or does Popcorn look happy, relaxed and proud?
People often ask if our boys ride. 
The short answer is, 'The all can but no, they don't ride often.'
And sometimes when I offer this reply, I'm aware of the disservice that the answer implies. 
The answer feels both truthful and woefully inadequate.
While the boys don't ride…I'm confident that the lessons they learned growing up with horses will be with them the rest of their lives. 
Is your horse part of the family? Please share a photo illustrating this point:)
*   *   *
As we approach Christmas I have teamed up with Equithrive to run a contest ending with one of YOU owning your very own Popcorn model. Entering is easy.
There are three ways. Simply answer the question (What 'event' would your horse excel in…that isn't really an event?)
either 1) in the comments below this post, here on my blog 
There will be a new question every day between now and December 19th.
The winner will be announced on December 20th!
I'm excited to read your stories! (and if you have time…reading what other people have posted is really fun!)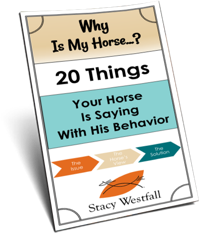 FREE PDF DOWNLOAD
WHY IS MY HORSE...?
No one taught you the skills you need to work through these things.
Riders often encounter self-doubt, fear, anxiety, frustration, and other challenging emotions at the barn. The emotions coursing through your body can add clarity, or can make your cues indistinguishable for your horse.
Learning these skills and begin communicating clearly with your horse.
Click here to learn more.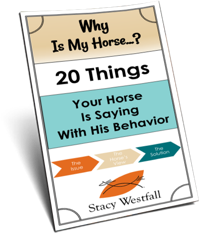 Free PDF Download "Why is my horse...20 things your horse is saying with his behavior"
PDF will be delivered to the email address you enter as will weekly tips from Stacy. Totally free. Unsubscribe anytime.