About three weeks ago I wrote a blog titled, 'How cold is too cold to ride a horse?' but due to moving to Texas (at least for awhile) Jac is wondering about the heat.
We knew in November that people were seriously interested in buying our house and because of it we made sure we started blanketing all of the horses. We did this because we hoped to be headed to Texas to stay with some friends for awhile and Texas is generally warmer than Ohio:)
When we left Ohio the temperatures had been dipping to the lowest I had seen while living there with many day time highs in the single digits and nighttime lows in the negative numbers.
We have been here three days and all of them have been in the 70's!
It has been beautiful weather to ride in….at least for me. The horses, on the other hand, have mixed opinions. They start out frisky (we didn't ride the last few days in Ohio due to packing) but they quickly run out of steam.
If we hadn't blanketed them we would have needed to body clip them to help them cope with the sudden change in temperature. For the most part we just need to take it easy with them for awhile while they adjust.
This involves shorter training cycles as well as easier training cycles. I might still ride for an hour but I am actually doing less than I was when I was riding for an hour in 20 degree weather. Once we both get accustom to the heat I am sure that will change some..plus Jac is shedding like crazy…but still…..
I never thought I would hear myself say this…but it is actually easier to get a lot of hard riding done in the cold!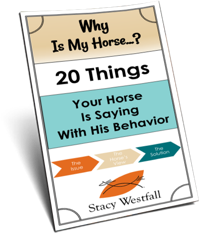 FREE PDF DOWNLOAD
WHY IS MY HORSE...?
No one taught you the skills you need to work through these things.
Riders often encounter self-doubt, fear, anxiety, frustration, and other challenging emotions at the barn. The emotions coursing through your body can add clarity, or can make your cues indistinguishable for your horse.
Learning these skills and begin communicating clearly with your horse.
Click here to learn more.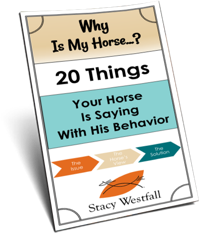 Free PDF Download "Why is my horse...20 things your horse is saying with his behavior"
PDF will be delivered to the email address you enter as will weekly tips from Stacy. Totally free. Unsubscribe anytime.