A random herd of horses came ambling past my bedroom window this morning. I am not sure who was more surprised by it; Jesse, Jac or me. I happened to be looking out the window to see where the sun was rising when I noticed movement in the trees. The horses in the stalls & runs below the window also noticed.
All of the horses started bucking and were excited…except for Jac. He stood perfectly still and stared. I think if horses jaws dropped open like humans, his would have been hanging on the ground.
The small band of horses kept going past the pens so I went to the other side of the apartment to see where they would go. To my surprise the answer was…our horse trailer!
We had arrived late in the day and after unloading our horses we left the trailer open. Our horses had left unfinished hay in the trailer.
This is a video from our apartment window. The horses are not really 'wild' horses…they are fenced on 200 plus acres and are roaming free on that part…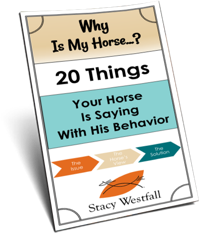 FREE PDF DOWNLOAD
WHY IS MY HORSE...?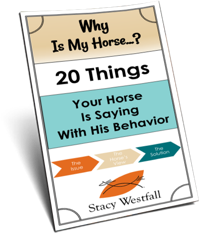 Free PDF Download "Why is my horse...20 things your horse is saying with his behavior"
PDF will be delivered to the email address you enter as will weekly tips from Stacy. Totally free. Unsubscribe anytime.