With the crazy-late night we had before we left Ohio we haven't been making the best time as we travel. On the flip side we have met some great people and are managing to catch up on our sleep (in the hotels…not while we drive).
Most of our horses were blanketed this winter in Ohio which is going to come in handy with this move to Texas. As we travel we need to take the ever changing temperatures into account as well as the idea that the horses are working a bit as we travel. Here you can see Jac is taking off a layer before loading up in the trailer.
Today as we travel we will be leaving while it is 30 degrees but within two hours of driving it will be 59 degrees and will be 69 degrees later than that. With five horses in the trailer the plan is to take blankets off and then regulate the temperature by keeping the trailer closed up at the beginning and then opening rear windows as needed. It is important to remember to leave some windows in the rear cracked because five horse breathing in the trailer does create a lot of condensation. Have you ever noticed in the cold weather that a car load of people in a vehicle makes the windows hard to keep defogged? Same idea but inside the horse trailer.
Signing off for now, I have to go load up horses. Jac is almost as excited about being ridden as I am about riding him…lol. He is so full of energy because I didn't ride him the last few days in Ohio as we packed and he is very, very fit from being ridden in 20 degree weather at home. I hope he and Newt behaved last night in their side by side stalls. Maybe I will ride in the next few days?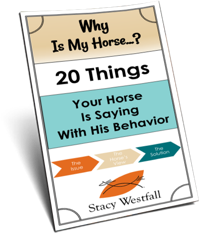 FREE PDF DOWNLOAD
WHY IS MY HORSE...?
No one taught you the skills you need to work through these things.
Riders often encounter self-doubt, fear, anxiety, frustration, and other challenging emotions at the barn. The emotions coursing through your body can add clarity, or can make your cues indistinguishable for your horse.
Learning these skills and begin communicating clearly with your horse.
Click here to learn more.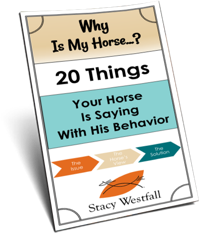 Free PDF Download "Why is my horse...20 things your horse is saying with his behavior"
PDF will be delivered to the email address you enter as will weekly tips from Stacy. Totally free. Unsubscribe anytime.