"Hello Stacy, can folks get certified for instructor and horse training through you? If not, what is the best program you recommend? I'm an all around rider so not wanting to get certified through a specific discipline. Thank you"
No, that is not something I offer. The first two that come to mind are Clinton Anderson and Josh Lyons although I don't know much about the programs (If anyone else has a recommendation feel free to list in the comments).
My thoughts are… (take or leave them as they were free:)…generally speaking when you decide to become an instructor/trainer, clients are more likely to want to see your results more than they care about who you certify with.
Study, learn, train and grow in the best way for you to achieve the results that you and your future clients desire.
I recommend learning and training your own horse as an example of what you can do. Everyone I know who has followed this path has been very successful in finding clients.
Ride with Faith,
Stacy Westfall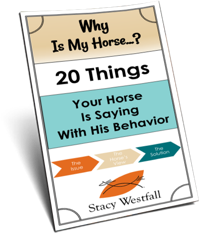 FREE PDF DOWNLOAD
WHY IS MY HORSE...?
No one taught you the skills you need to work through these things.
Riders often encounter self-doubt, fear, anxiety, frustration, and other challenging emotions at the barn. The emotions coursing through your body can add clarity, or can make your cues indistinguishable for your horse.
Learning these skills and begin communicating clearly with your horse.
Click here to learn more.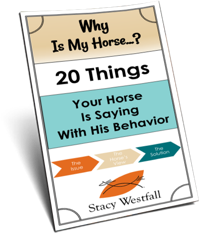 Free PDF Download "Why is my horse...20 things your horse is saying with his behavior"
PDF will be delivered to the email address you enter as will weekly tips from Stacy. Totally free. Unsubscribe anytime.