This video is really funny! The horse and human both play their parts well, lol.
During filming I have also come across horses that seemed to have a desire to run the camera…but the one in this video is the clear winner.
Did you find yourself trying to 'hide' your ear against your shoulder while watching the video? I did, too funny!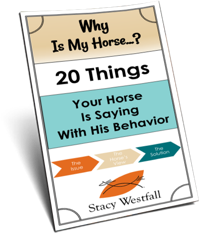 FREE PDF DOWNLOAD
WHY IS MY HORSE...?
Free PDF Download "Where is my horse...?"
20 things your horse is saying with his behavior.