Episode 158: An inside-out thankfulness assignment
"Enjoy the little things. For one day you may look back and realize they were the big things."-Robert Brault
I see a dance between the words; thankful, grateful and compassion. When you make your 'I'm thankful for…' list, do you make it on the list?
There is a good chance you don't because many people are worried about feeling vain or narcissistic. What if you could practice thankfulness and self compassion and it improved your relationship with your horse?
In this podcast I discuss thankfulness, self compassion, failure and I share an inside-out thankfulness assignment to increase awareness.
⬇️FULL SHOW NOTES
CLICK FULL SHOW NOTES
Links mentioned in podcast:
It's easy for us to look around the Thanksgiving dinner table and say that we are thankful. Some are surrounded by family, friends, and food and in that moment in time, we're currently experiencing that warm, fuzzy feeling that comes with a holiday gathering; we're thankful. We may feel thankful for their presence in our lives, and happy that everyone is well since the last gathering.

However, gratitude goes much deeper than this. It is a state of being, where you feel a sense of appreciation that comes from deep within. You are at peace with the world, and appreciate that state of affairs deep within. The feeling of calm these thoughts and emotions bring to mind we find fulfilling.

Gratitude is more than just the feeling of thankfulness. Being thankful is the first step, and we have to have that initial feeling to build upon.

[https://www.psychmc.com/articles/difference-between-gratitude-and-thankfulness]
Gratitude And Neurotransmitters

When we express gratitude and receive the same, our brain releases dopamine and serotonin, the two crucial neurotransmitters responsible for our emotions, and they make us feel 'good'. They enhance our mood immediately, making us feel happy from the inside.

By consciously practicing gratitude everyday, we can help these neural pathways to strengthen themselves and ultimately create a permanent grateful and positive nature within ourselves.

[https://positivepsychology.com/neuroscience-of-gratitude/]
It is often times easier to give praise and gratitude to others than ourselves. Dr. Kristin Neff, author of Self-Compassion: The Proven Power of Being Kind to Yourself, has written that many people are worried about feeling vain or narcissistic…

The number-one reason people give for why they aren't more self-compassionate is the fear that they will be too easy on themselves. Without constant self-criticism to spur myself on, people worry, won't I just skip work, eat three tubs of ice cream and watch Oprah reruns all day? In others words, isn't self-compassion really the same thing as self-indulgence?

https://self-compassion.org/the-motivational-power-of-self-compassion/
SUBSCRIBE TO THE PODCAST HERE: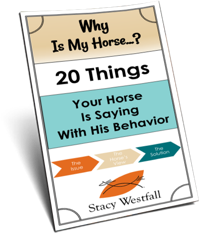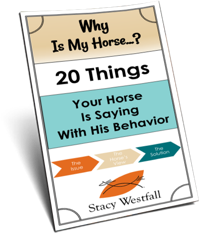 Free PDF Download "Why is my horse...20 things your horse is saying with his behavior"
PDF will be delivered to the email address you enter as will weekly tips from Stacy. Totally free. Unsubscribe anytime.