How do you approach body clipping foals if they aren't halter trained yet? With good technique. 
The technique is the same one you should use with any horse (approach and retreat) but the application is different.
Think about that sentence for a minute.
The technique, the idea, the thought, the theory, is approach and retreat. Approach can be outside the stall, inside the stall, five feet away or five inches away. The idea is that you 'approach' in some form and 'retreat' when the horse responds in a way you like. In this case I 'retreat' when they look at me.
The application is different because I don't have a halter on them. The theory didn't change. The application changed.
Sometimes 'different' makes people nervous. What if it doesn't work? What if they run? What if I can't get close? What if…what if…what if…
As long as that 'what if' doesn't leave one of you injured then 'what if' it happens? You can probably make a plan for how to handle it. If they seem scared with you outside the stall, maybe you stay at that distance for a few days. The same technique applies though; they look toward you, you shut off the clippers.
When you get comfortable with the theory you will execute the application much better. 
(The most asked question has been, "Why clip the foal?". You will notice in the video that there are two foals but I only clipped the one. The one I clipped was having trouble cooling himself. He was overheating. His body was soaked in sweat daily without working and his breathing rate was increased, labored, from the heat. He would get depressed/lethargic. The other foal was fine. I clipped the one because I was afraid for his health and didn't want his body working so hard if I could step in and help.)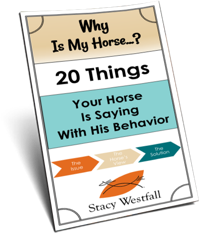 FREE PDF DOWNLOAD
WHY IS MY HORSE...?
No one taught you the skills you need to work through these things.
Riders often encounter self-doubt, fear, anxiety, frustration, and other challenging emotions at the barn. The emotions coursing through your body can add clarity, or can make your cues indistinguishable for your horse.
Learning these skills and begin communicating clearly with your horse.
Click here to learn more.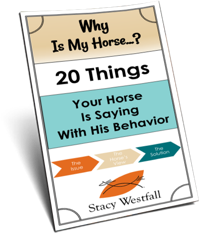 Free PDF Download "Why is my horse...20 things your horse is saying with his behavior"
PDF will be delivered to the email address you enter as will weekly tips from Stacy. Totally free. Unsubscribe anytime.