Have you ever seen resistance in a horse…that you suspected was caused by an unbalanced rider?
This week's theme on my podcast and blogs has been rider fitness. A fit and balanced rider is much easier for the horse to carry. As riders aim to advance inevitable they will experience one of two things regarding fitness: the horse is lacking in strength and balance or the rider is lacking in strength and balance.
Think about it. I'm a fairly fit and advanced rider but when I get on a young horse for the first rides…I am limited by the horses lack of strength and balance under saddle.
The same is true the other way around. If I let someone ride Willow and they are not strong in their core or struggle with independent control of their hands and legs (hint: this requires strength) then Willow cannot lope as smooth as effortlessly as she does with me.
What would change if you considered lack of fitness the next time you felt resistance when riding?
?. ?. ?.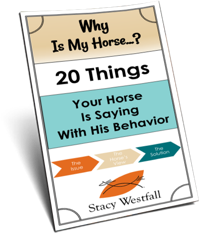 FREE PDF DOWNLOAD
WHY IS MY HORSE...?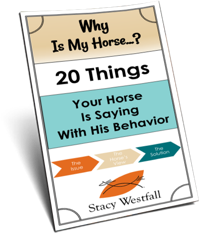 Free PDF Download "Why is my horse...20 things your horse is saying with his behavior"
PDF will be delivered to the email address you enter as will weekly tips from Stacy. Totally free. Unsubscribe anytime.