"Hello there. I am a 23 year old male living in England, currently trying to find my place in life. I squandered a few years of my life living on benefits and not aspiring to do anything. I got incredibly fat, I had no dreams, no goals and spent every last penny I had just for the sake of spending it.

In January of this year I started to try and improve my life and myself as a whole. I still struggle with confidence but I joined a gym, began walking and started trying to save my money with one end goal in mind…to work with horses in some capacity or another, quite likely as a riding instructor after training for it. I've never interacted with them but have always loved them from afar, I can't afford my own and haven't had any lessons yet as I'm still too heavy. I was 19 stone (266 lbs) in January and I'm now 14.11 (197 lbs) as of my last weigh in.

Things had been going tremendously well…but then a certain reality hit me, and that's how hard it is to find vacancies in the industry even if you're well qualified. I had it in my mind to do courses in the care of horses, riding etc in 2015 but now I've been hit with the realization of this. I can still get free tutiton for regular A Level courses at college until I'm over 25 (currently 24) so I would have other options should I pass them. My heart wants to train for a career with horses but my brain is telling me to get those A Levels I never got and if I still have the drive for it then persue the dream, without a student loan hanging over my head. (For the A Levels, not the equine courses)

I feel incredibly lost and I feel like the very aspiration that got me to start turning my life around is slipping away. What am I supposed to do? I want to have a stable future but I know I'll regret not even trying to live my dream as I get older. What should I do? Persue my dream now or do it in my late 30′s aftet improving my education, having wasted so much time?

I fear going into a tailspin and this right back to where I started."-Daniel A.
Daniel- The first paragraph shows someone who has thought hard about what they have chosen to do and were not scared to look directly at the issues. The second paragraph shows someone who is willing to work and make changes…and that is impressive. Not easy to do…but that's why it is impressive. I will try to address some of the questions you had for me.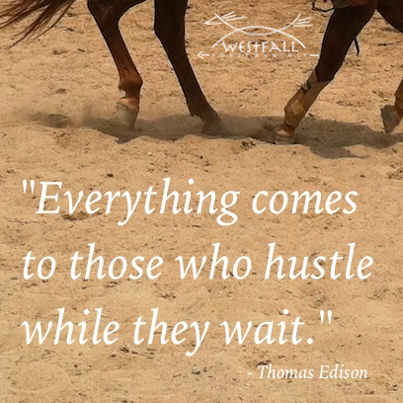 I'm not sure how hard it is to find vacancies if you are well qualified. It is becoming 'well qualified' that is difficult and time consuming. You might dream of teaching but you will likely start by shoveling manure, paying for lessons and outworking everyone else around you. This phase could last for ten years or more while you work to become well qualified…the difficult part is remembering that every job you do is an opportunity. An opportunity to show someone how reliable, dedicated, driven, passionate, and hard working you are all while building your skill set. There are often opportunities all around us if we are able to see them.
My kids just showed me this quote by Thomas Edison, "Everything comes to those who hustle while they wait." I think it applies to most areas of life. You are still young and have many opportunities ahead. Maybe you could begin to look at your prior choices as learning experiences, things you did that you will choose not to do again…which could mean that it wasn't really wasted time. I'm sure you will encounter difficulties again, we all do, just keep learning and moving forward.
If it were me, I would try for both; aim for the A Level courses that have free tuition and find a way to begin getting experience with horses. If you can't ride yet I bet someone would let you sit and watch lessons. But don't stop there. Go watch horse shows, look up equine events you can travel to and take this time to see what areas inside the horse industry appeal to you. Shadow people in as many areas of the equine industry as you can. Spend a day with an Equine Massage Therapist or any other profession that interests you.
I recently wrote a blog listing many of the possible careers with horses, check it out, it may surprise you how much variety there is inside the industry. Who knows, maybe you can make those A Level classes AND the horses combine to become everything you are dreaming of.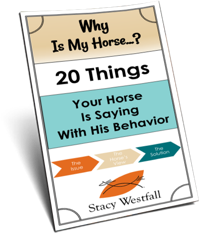 FREE PDF DOWNLOAD
WHY IS MY HORSE...?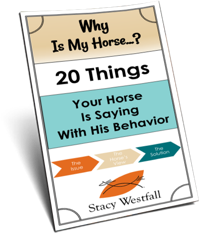 Free PDF Download "Why is my horse...20 things your horse is saying with his behavior"
PDF will be delivered to the email address you enter as will weekly tips from Stacy. Totally free. Unsubscribe anytime.