Yesterday was my birthday. Birthdays have always been like mini New Years day for me. Many people set New Years Resolutions on January first…but I have always found my birthday to be a more impactful day for that type of thinking. 
Maybe it is because its a more personal day. Maybe its because my age keeps me anchored to my years here on earth…or maybe it is just the sugar rush:)
For whatever reason I have always found birthdays to be a time of reflection that has led to change. 
Does it make you curious? What changes am I contemplating? I'll share a few. 
How can I help more people face to face?

How can I help more people in the next year than ever before?

How can I help more people through writing?

How much travel do I want to do?

How will I express my art?
As usual, I find myself writing these as bullet points but wishing each one of them was a full on page of details. That has been one of my 'clues' that I want to write more. I find myself repeating, "I could write a book about_______."
So maybe I need to write a book.
And I wonder, if I wrote multiple books, if I could help more people. But then I realize that I want to have more contact with people. I like the energy that happens when a group of people who have the same passion get together. But how much will I want to travel? Is it realistic to have people travel to me? Or should I travel to them?
…and art. I am drying up without expressing my art. Sometimes my art is writing. Sometimes my art is riding. Sometimes my art is gardening. Sometimes my art is speaking. But any way that I look at it, my art has suffered during this last transition period of my life. 
This last year has been about 'good bones.' I find myself saying about our property 'it has good bones.' Which is how I am keeping my sanity. Attempting to keep my sanity anyway, during the building process. Great projects always start with 'good bones', solid foundations, great plans. 
But I need more. I need to move past the foundation to the final product. The art. The polish. The frosting. 
Happy New Year to Me:)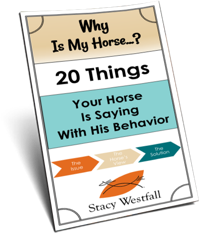 FREE PDF DOWNLOAD
WHY IS MY HORSE...?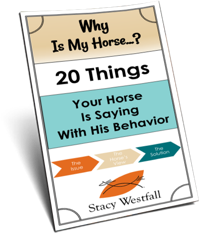 Free PDF Download "Why is my horse...20 things your horse is saying with his behavior"
PDF will be delivered to the email address you enter as will weekly tips from Stacy. Totally free. Unsubscribe anytime.