For me the Super Bowl means commercials and especially commercials featuring horses. Naturally, Budweiser dominates this market. This year I think the commercial is great…but I LOVE that they have also included two 'behind the scene' videos. The last one here includes a clip of the horse trainer.
Did you know the hitch is made up of all geldings which stand about 18 hands (about 6 feet) at the shoulder and weigh between 2,000 and 2,300 pounds?
I took my photo with some of the Budweiser horses this summer. We both happened to overnight at the same place. These guys are HUGE…unfortunately I can't find any of the photos. Guess I will have to make a plan to visit with them again. I've driven a team of minis…I wonder what it would be like to drive this full hitch?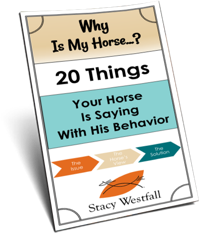 FREE PDF DOWNLOAD
WHY IS MY HORSE...?
No one taught you the skills you need to work through these things.
Riders often encounter self-doubt, fear, anxiety, frustration, and other challenging emotions at the barn. The emotions coursing through your body can add clarity, or can make your cues indistinguishable for your horse.
Learning these skills and begin communicating clearly with your horse.
Click here to learn more.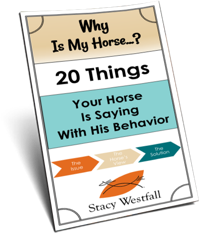 Free PDF Download "Why is my horse...20 things your horse is saying with his behavior"
PDF will be delivered to the email address you enter as will weekly tips from Stacy. Totally free. Unsubscribe anytime.