When I took this photo today my first thought was to post something about our motor home being the 'pot of gold' at the end of the rainbow.  After more thought, and looking at the photo on my computer, I decided instead to share some of the drawbacks or dark sides of living in a motor home.
It felt like a perfect fit for the photo…until I began to write the blog in my head. What should I complain about? The motor home being smaller than my former house? The constant battle I have with the boys leaving their dirty cloths everywhere? School books not being put away? Dirty shoes? Laundry? Dishes?
All of these are true, plus more. But every time I started the list again I realized there was nothing different to complain about while living in the motor home than I would have done when I lived in my house. Wait. I just thought of one.
Shopping. I do find myself sometimes standing in a store (Best Buy was the last one) saying, "It seems like I should buy something…" but I have nothing I need. Can I complain about that?  I am so aware of what I have, where it is, and what I really need that I am not tempted to buy…but part of me still thinks they won't let me out of the store if I don't spend money, lol.
For me, living in a small house is like cleaning out a large purse and swapping it for a smaller one. At first it seems like you will never fit all you 'need'…but later after you made the switch you wonder what it was that you had filling that huge old purse.
Maybe that is why when I look at the photo my first thought was to write about the pot of gold. I can see how other people could focus on the dark cloud but I'm guessing they would do that in most situations.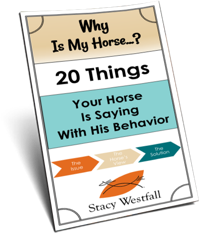 FREE PDF DOWNLOAD
WHY IS MY HORSE...?
No one taught you the skills you need to work through these things.
Riders often encounter self-doubt, fear, anxiety, frustration, and other challenging emotions at the barn. The emotions coursing through your body can add clarity, or can make your cues indistinguishable for your horse.
Learning these skills and begin communicating clearly with your horse.
Click here to learn more.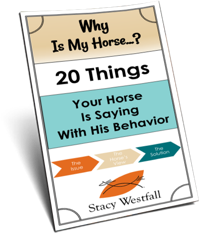 Free PDF Download "Why is my horse...20 things your horse is saying with his behavior"
PDF will be delivered to the email address you enter as will weekly tips from Stacy. Totally free. Unsubscribe anytime.