Dear Louie,
I know we really haven't talked much since the Quarter Horse Con-ger-us last October but I overheard our moms talking and I thought I should warn you.
IF YOU COME TO VISIT  –  THE NATIVES ARE NOT FRIENDLY!
No one warned me and I had to find out the hard way.
You see, my mom left me tied after we went for a ride the other night. It is an annoying habit she has, I dig a hole to tell her it is wrong, but she is a slow learner.
I usually just dig but this time I decided to untie the knot. It took awhile but I did it.
I knew exactly what I wanted to do. There are these horses that come by and visit but I am always in my pen…except last week when my mom was riding me and they came running down the driveway. We didn't have time to talk then though.
So when I untied myself I took off after them!
It was dark but I can see pretty good. I could smell them and it made it easier.
I was so excited! I ran right up to them and then BAM!
They kicked me!
Mom came and found me.
I just thought I should warn you.
Newt
If you liked this blog and want to know more about Newt and Louie check out the following blogs: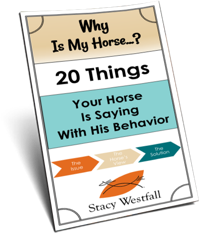 FREE PDF DOWNLOAD
WHY IS MY HORSE...?
No one taught you the skills you need to work through these things.
Riders often encounter self-doubt, fear, anxiety, frustration, and other challenging emotions at the barn. The emotions coursing through your body can add clarity, or can make your cues indistinguishable for your horse.
Learning these skills and begin communicating clearly with your horse.
Click here to learn more.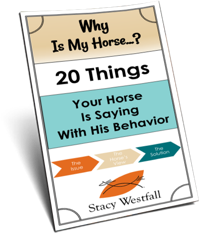 Free PDF Download "Why is my horse...20 things your horse is saying with his behavior"
PDF will be delivered to the email address you enter as will weekly tips from Stacy. Totally free. Unsubscribe anytime.