My horses started to shed in January while I was still in Ohio…and it was COLD! Now that we are in Texas they are really letting go of their hair.
Did you know that the horse's pituitary gland recognizes the change in daylight hours and triggers shedding?
I LOVE 'shedding season'…I enjoy breaking out the brushes, clippers and having a 'make-over day' in the barn.
This is a photo of Jac's butt on make-over day last week. I love scrapping off all the old hair (some mud too as he had fun in the turn out) and uncovering the hidden treasure, lol.
My favorite tools for this job are: an old fashion shedding blade and Shine & Detangler for after the bath (the trick is to put the detangled in the mane and tail while wet and let it dry before you brush).
Where do you live? Are your horses shedding yet? What are your favorite grooming tools or tips when they do?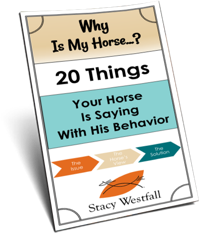 FREE PDF DOWNLOAD
WHY IS MY HORSE...?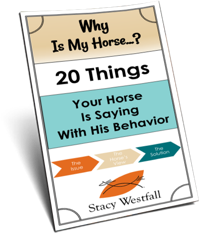 Free PDF Download "Why is my horse...20 things your horse is saying with his behavior"
PDF will be delivered to the email address you enter as will weekly tips from Stacy. Totally free. Unsubscribe anytime.