Imaging the nightmare. Your horse goes missing. Maybe he jumped the fence or maybe someone loaded him up and drove off with him. I've heard of horses being stolen during nasty divorce battles or stolen to be sold…usually not to a high profile buyer either.
If you ever know of something like this happening: CALL NET POSSE.
Net Posse is the brain child of Harold and Debi Metcalfe who learned first hand the horror of having a horse stolen. The following is a quote from their website:
"On September 26, 1997, Harold and Debi Metcalfe discovered their spotted racking horse mare, Idaho, had been stolen from the pasture through a cut fence bordering a dirt road. This unanticipated disruption in this all-American family's normal life led them on a journey over the next 51 weeks for which they were completely unprepared. At that time, the Internet was still just a baby and offered few, if any, resources for victims of horse theft. So Debi taught herself how to capture the power of the evolving Internet and send out information via email about their stolen horse. Her outreach cultivated a following of complete strangers from concerned friends and horse owners to others who were also victims.

On September 17, 1998, Idaho was successfully recovered because of the Metcalfes' relentless dedication to bringing her home and the backing received via a group of supporters dubbed "NetPosse" by the media. Once Idaho was home, the Metcalfes knew they had to use their experience to help other victims, and so Stolen Horse International, aka NetPosse was formed."
And it works. A visit to the NetPosse website includes not only those horses who are currently missing but also success stories. Here is a photo and a short clip of a success story directly from the NetPosse website:
"WELLINGTON — Palm Beach County deputies have recovered three valuable horses and arrested a veterinarian who frequented village equestrian events — charging her as a horse thief….

*    *    *

Her arrest was particularly chilling for San Diego's co-owner and trainer, who said she stopped by to offer her condolences after a reward was posted for his return.

"She stopped here the day after he was stolen and asked me all kinds of questions and told me how bad she felt," said Ron Esposito. "I thought she was just a concerned neighbor. She was really trying to find out what she had stolen."

He now suspects she was trying to find out how much San Diego was worth. Esposito valued the horse at more than $500,000.

*    *    *

San Diego's disappearance had been well publicized. It was posted on a Web site called netposse.com, a national clearinghouse that keeps track of stolen horses. Some 40,000 are reported stolen nationally each year."
I have no doubts as to what I would do if I were ever in this terrible situation. Call NetPosse. They are great people with a heart for helping horses. Visit their website at www.NetPosse.com or on Facebook.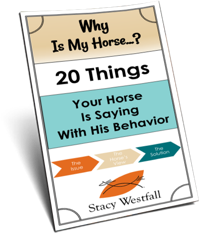 FREE PDF DOWNLOAD
WHY IS MY HORSE...?
No one taught you the skills you need to work through these things.
Riders often encounter self-doubt, fear, anxiety, frustration, and other challenging emotions at the barn. The emotions coursing through your body can add clarity, or can make your cues indistinguishable for your horse.
Learning these skills and begin communicating clearly with your horse.
Click here to learn more.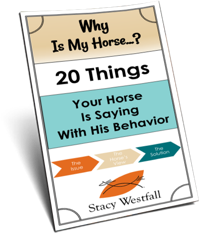 Free PDF Download "Why is my horse...20 things your horse is saying with his behavior"
PDF will be delivered to the email address you enter as will weekly tips from Stacy. Totally free. Unsubscribe anytime.