Do you like seeing behind the scenes?
I do.
The end result is often enjoyable; the fully decorated cake, the perfect wedding…an amazing horse in the show pen.
But the story of how it all came about is often far more interesting.
This year I've decided to invite you in for a behind-the-scenes look at preparing and taking two horses to the Western Dressage World Show in October 2019.
In this video first video, I will introduce you to Willow and Gabby, tell you a bit about them and then tell you the plan. It is April right now and although I'm welcoming you behind the scenes…I can't tell you exactly how the story will go. That's the fun part. All the twists and turns that happen along the way to a big goal.
If you would like to hear more about S.M.A.R.T. goals, check out my podcast episode on the subject, Setting S.M.A.R.T. goals with your horse in 2019.
 https://stacywestfall.com/episode-7-setting-smart-goals-with-your-horse-in-2019/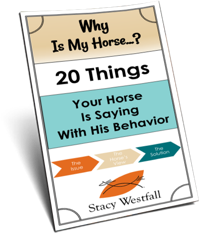 FREE PDF DOWNLOAD
WHY IS MY HORSE...?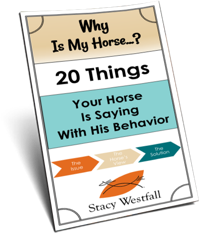 Free PDF Download "Why is my horse...20 things your horse is saying with his behavior"
PDF will be delivered to the email address you enter as will weekly tips from Stacy. Totally free. Unsubscribe anytime.