It is cold! And I don't know about you but I don't drink as much as I should in this weather. 
Just yesterday I was dizzy from dehydration.
And that is my point. Colic rates climb when the weather acts strange. Much of this is related to horses not drinking normally during major weather swings. It was -13 last night and they are calling for almost 50 degrees this weekend. That qualifies as major.
Heated troughs and buckets are amazing. If you don't have them though don't despair.
It is amazing what a gallon of hot water added to a bucket will do to improve the palatability.
That goes for barn cats too.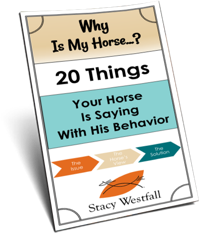 FREE PDF DOWNLOAD
WHY IS MY HORSE...?
No one taught you the skills you need to work through these things.
Riders often encounter self-doubt, fear, anxiety, frustration, and other challenging emotions at the barn. The emotions coursing through your body can add clarity, or can make your cues indistinguishable for your horse.
Learning these skills and begin communicating clearly with your horse.
Click here to learn more.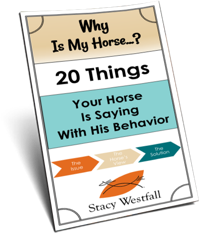 Free PDF Download "Why is my horse...20 things your horse is saying with his behavior"
PDF will be delivered to the email address you enter as will weekly tips from Stacy. Totally free. Unsubscribe anytime.