"Hi Stacy, We have just got a pony he is 1 year old and he is still a stud colt we plan on getting him gelded as soon as we can. But I have all but the smart start DVDs of yours but do you have any pointers for me this will be my first time training a pony? I have trained our other riding horses. Do you do anything different when they are smaller? He almost 10 hh and we would like to have him able to ride and

to pull a cart. He's a very friendly little guy."-Mandie D 
Congratulations! I have a soft spot for ponies and minis…they make me laugh even more than the 'full size' versions. Here are some tips for working with smaller equines:
require the same respect that you would from a full-sized horse

expect the same results you do with your horses

treat them with respect
From a training aspect, things are very similar to training a horse. While smaller equines really do make me laugh more I still require them to be respectful. While it may seem more 'ok' to let the little guy rub on you…he will likely someday be around small children. While him rubbing on your thighs seems like no big deal, that won't be the case when it is a small child. 
Smaller doesn't mean immature mentally, which is why ponies have the reputation they do! Expect them to give the same results as their larger cousins and they will!
Respect should be a given with all horses but often the little guys get a bit pushed around because of their size. Keep the techniques the same. If you would have tapped to move a big horse, tap to move the small one. People are sometimes tempted to push the little ones around because it physically works but it is not as respectful and even invites resentment.
Groundwork will be a must and will be increased by your desire to teach them to drive. I loved training my minis. Although they were too small for me to ride I trained them with all the same steps for riding and driving. 
Oh, one last thing, have fun!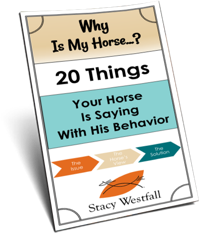 FREE PDF DOWNLOAD
WHY IS MY HORSE...?
No one taught you the skills you need to work through these things.
Riders often encounter self-doubt, fear, anxiety, frustration, and other challenging emotions at the barn. The emotions coursing through your body can add clarity, or can make your cues indistinguishable for your horse.
Learning these skills and begin communicating clearly with your horse.
Click here to learn more.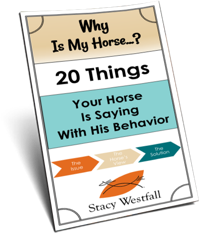 Free PDF Download "Why is my horse...20 things your horse is saying with his behavior"
PDF will be delivered to the email address you enter as will weekly tips from Stacy. Totally free. Unsubscribe anytime.