Question.. How would you go about finding reputable transport for a horse? I have a friend who is looking, but having a hard time putting that much faith into a paid transporter. -Katelyn P.
It is good to be concerned when looking into horse hauling companies. Like anything there are good and not so good companies out there.
While I was in college, in Ohio, I needed to have my horse hauled back to Maine for the summer. I asked around (I was at an equine college) and made calls but no one had any real answers. The best I could find was an ad in the back of a magazine. I called a couple until I found one that was going that direction.
Scrapper, my horse, couldn't get a ride until two weeks after I had already gone. I wasn't worried though because he was at my college. A friend called and told me when he had been picked up. I was excited and began the countdown. It takes about 16 hours to drive from Ohio to Maine.
They told me it would be a little longer because they had other stops. One day went by. Then two (no cell phones back then). Finally on the third day a call. They would be there late that night.
When Scrapper arrived I saw the rig for the first time. It was a very large stock trailer that had slant load stalls inside. They unloaded several horses to get to Scrapper. I was shocked.
He looked like a greyhound. He was so drawn up I couldn't believe it. I had raised him and had never seen him look like this. He was crusty from sweat that had dried all over his body. I was working at a barn and the lady there said I should be concerned because she doubted he had been watered.
In the stock/slant set up there were no drop down windows to water horses. The hauler was in and out and didn't ask to water the horses he had unloaded to get Scrapper off. The lady I worked for was probably right.
I don't say this to claim that there are no good companies. I am hoping that people will leave comments below telling of happy stories. That is my only personal experience with a horse hauler. Everything I have done after has been by word of mouth or done myself.
If we have a horse we want hauled we look for a big show that is happening near there and find another trainer who is coming or going. I have hauled horses for other trainers in the same situation (see side photo). I know this isn't available for everyone, I am just saying this is how I handle it.
My short answer is word-of-mouth. First hand experience relayed to you by someone else. As I don't have a lot of experience with hiring horse haulers, lets see what comments we can get here. Have you had a horse hauled? From where and to where? How much did it cost? Did the company do a good job? Would you recommend them?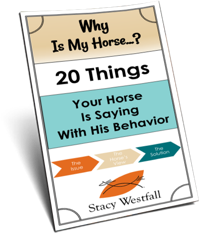 FREE PDF DOWNLOAD
WHY IS MY HORSE...?
No one taught you the skills you need to work through these things.
Riders often encounter self-doubt, fear, anxiety, frustration, and other challenging emotions at the barn. The emotions coursing through your body can add clarity, or can make your cues indistinguishable for your horse.
Learning these skills and begin communicating clearly with your horse.
Click here to learn more.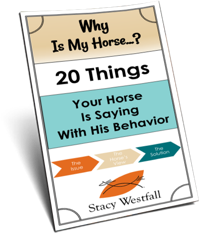 Free PDF Download "Why is my horse...20 things your horse is saying with his behavior"
PDF will be delivered to the email address you enter as will weekly tips from Stacy. Totally free. Unsubscribe anytime.