I often tell people that when they are riding their horse they need to realize that they are either making deposits or withdrawals. When we interact with our horses, our children, etc we are either making deposits or withdrawals. It is human nature to believe that we are doing neither and are instead on a plateau.
There are no plateaus. You are either doing one or the other and if you are not SURE which one it is….then you are making a withdrawal.
Watching TV is often a place where as a family it is easy to pretend we are spending time together. But unless there is active discussion around what we are watching together it is generally not a deposit, and therefore it is a withdrawal.
You will most often recognize deposits because they involve planning and/or work. When you go trail riding do you make an effort to improve things or do you cruise along enjoying the show?
Watch for tomorrows post "Is just enjoying your horse bad?"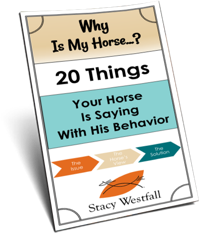 FREE PDF DOWNLOAD
WHY IS MY HORSE...?
No one taught you the skills you need to work through these things.
Riders often encounter self-doubt, fear, anxiety, frustration, and other challenging emotions at the barn. The emotions coursing through your body can add clarity, or can make your cues indistinguishable for your horse.
Learning these skills and begin communicating clearly with your horse.
Click here to learn more.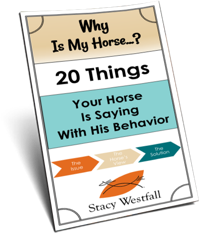 Free PDF Download "Why is my horse...20 things your horse is saying with his behavior"
PDF will be delivered to the email address you enter as will weekly tips from Stacy. Totally free. Unsubscribe anytime.