What do you do if the horses are pawing when tied up? What do you do if they whinny and call for each other?
This is the first time I've hauled Willow and Gabby together. Willow is always a bit insecure at horse shows and Gabby hasn't been hauled very much (less than five times).
Gabby is a more confident horse in general but she still has questions about all this new stuff. Willow is more insecure and having Gabby around has made her worse.
Instead of avoiding this issue, I will haul them together and work on it.
I don't stress when they are calling out but I do require them to respect my aids. When leading, they are not allowed to invade my space or otherwise disobey. When riding, they are not allowed to ignore my reins, legs or other cues. If the horses don't respect my aids, I look at it as an opportunity to practice.
The most viewed video on my YouTube channel is Roxy and the bareback & bridleless, Live Like You Were Dyin' ride. People often wonder how I developed the relationship I did with Roxy. The answer is…a little bit at a time.
My goal in this video series is to show you the slow, steady progression of training. At times I'm tempted to say that horse training looks boring. As our communication becomes more refined the progress is more subtle. Good horse training isn't very exciting on a daily basis but it is what makes the final exciting ride in the show pen possible.
All of these experiences I'm signing up for will stretch me and my horses out of our comfort zones. They will test us in ways that I cannot recreate at home. They will reveal our weaknesses and show us where we can grow.
When I show, I appreciate the ribbons and the feedback but they are not my end goal. I want to develop a better understanding of each horse and ultimately I hope they become an extension of my own body…of their free will.
————————-
In case you're new here: In 2019 I plan on showing two of my horses in Western Dressage with the goal of showing at the Western Dressage World show in October.
Along the way, I am also training and showing in traditional dressage, reining and ranch riding with my quarter horses.
I'm going to be sharing my journey so anyone who is interested can learn along with me.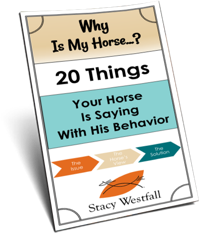 FREE PDF DOWNLOAD
WHY IS MY HORSE...?
No one taught you the skills you need to work through these things.
Riders often encounter self-doubt, fear, anxiety, frustration, and other challenging emotions at the barn. The emotions coursing through your body can add clarity, or can make your cues indistinguishable for your horse.
Learning these skills and begin communicating clearly with your horse.
Click here to learn more.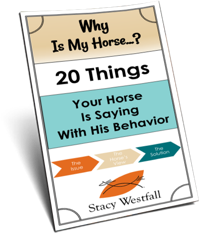 Free PDF Download "Why is my horse...20 things your horse is saying with his behavior"
PDF will be delivered to the email address you enter as will weekly tips from Stacy. Totally free. Unsubscribe anytime.