This is a short video of Newt being introduced to mounted shooting. I have found that by hauling the horses to a shooting practice or show and simply having the horses near the sport it is possible to tell a lot about how they are going to react. This is a Friday night fun shoot before a Northern Ohio Outlaws show.
In 'Step 1' watch Newts ears. I could feel him flinch for the first shot but it was small enough that it is hard to see on the video. Also notice how he watches the other horses. Notice how after I pet him his ears stop flipping back and forth.
In 'Step 2' two seasoned horses flank Newt and those riders shoot to the left or right. This leaves my hands free to guide my new horse if he becomes upset. It also makes it possible for me to ride the same way I normally would. Once I pick up my gun I will subtly change how I ride. Having the seasoned horses is one more step in gathering information on how my horse will respond when I do shoot.
It should be noted that we are using blanks, there is no projectile. The black powder is enough to pop a balloon but also burns out after a short distance which is why this is a safe spectator sport.
Notice that we are firing at the ground and behind the saddle. If my new horse were to have a reaction, he would likely jump forward. If we were to shoot in front of the cinch a new horse would be more likely to shy left or right.
Newt was quiet so I moved onto 'Step 3' which was following an experienced horse and shooting from Newt myself. My primary goal is to focus on my horse and measure his reaction. Newt is very quiet for now and I was happy.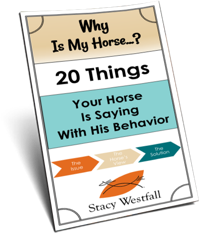 FREE PDF DOWNLOAD
WHY IS MY HORSE...?
No one taught you the skills you need to work through these things.
Riders often encounter self-doubt, fear, anxiety, frustration, and other challenging emotions at the barn. The emotions coursing through your body can add clarity, or can make your cues indistinguishable for your horse.
Learning these skills and begin communicating clearly with your horse.
Click here to learn more.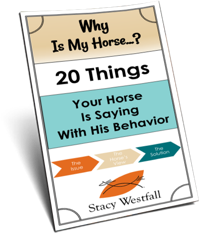 Free PDF Download "Why is my horse...20 things your horse is saying with his behavior"
PDF will be delivered to the email address you enter as will weekly tips from Stacy. Totally free. Unsubscribe anytime.