Here are some 'scary' horse stories for you to enjoy, plus many more in the comments! Feel free to add yours!
Story #1
My husband and I volunteer at a horse rescue and one early spring day a few years ago were involved in a rescue training exercise that involved a life-size but very lightweight plastic horse. To set up the evolution we had to carry said fake horse past a small field of weanlings and yearlings with their babysitter mares. The sight of two humans literally sweeping a horse off its feet terrified not just the babies but the "aunties" as well – except one old gal was simply intrigued. Hubby and I wound up adopting her – and she is not just wonderful on the trail but amazing in the dressage ring.
Story #2
They say the horse was scared of carrots. Not any carrots…only carrots that still had the carrot tops on. At least that is how the story goes. The trainer didn't believe the owner as the horse seems pretty reasonable in all other respects. But he had to know…
A trip to the store and a few carrots with tops later, it turns out the horse WAS scared of carrots with tops! Ran to the back of the stall when he saw them. Upon further questioning, the owner revealed that the horse, the first time he tried a carrot with a top, snatched the greens and pulled hard. This resulted in the carrot swinging and hitting the horse in the head. The horse fled…still carrying the carrot by the top…the carrot swinging wildly…
Story #3
I had a pony who was afraid of his hay for a while. I don't know what caused the problem since he had been eating it his whole life. He would very cautiously sneak up on the flake of hay, grab a bite, and run away to eat it. He would eat all of his meals like that for a few months until he got over his issues. My vet watched him do it and said that he'd never seen that before. It was very amusing.
The rest of the story…
When I first posted this I invited people to add their comments and lots of people did. Read through the comments and feel free to leave one of your own!  Has your horse ever been scared of something completely silly…at least silly in your opinion?
I'm opening the floor here. Do you have any scary stories involving a horse?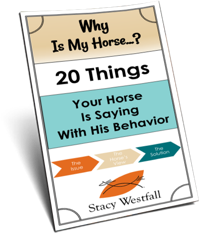 FREE PDF DOWNLOAD
WHY IS MY HORSE...?
No one taught you the skills you need to work through these things.
Riders often encounter self-doubt, fear, anxiety, frustration, and other challenging emotions at the barn. The emotions coursing through your body can add clarity, or can make your cues indistinguishable for your horse.
Learning these skills and begin communicating clearly with your horse.
Click here to learn more.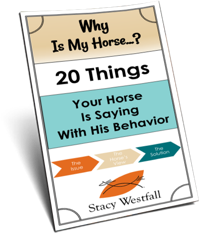 Free PDF Download "Why is my horse...20 things your horse is saying with his behavior"
PDF will be delivered to the email address you enter as will weekly tips from Stacy. Totally free. Unsubscribe anytime.