The horse was scared of carrots. Not any carrots…only carrots that still had the carrot tops on. At least that is how the story goes. The trainer didn't believe the owner as the horse seem pretty reasonable in all other respects. But he had to know…
A trip to the store and a few carrots with tops later, it turns out the horse WAS scared of carrots with tops! Ran to the back of the stall when he saw them. Upon further questioning the owner revealed that the horse, the first time he tried a carrot with a top, snatched the greens and pulled hard. This resulted in the carrot swinging and hitting the horse in the head. The horse fled…still carrying the carrot by the top…the carrot swinging wildly…
This can't be the only 'scary' horse story out there. Has your horse ever been scared of something completely silly…at least silly in your opinion?
I'm opening the floor here. Do you have any scary stories involving a horse? Scary horse buying story? Scary horse selling story?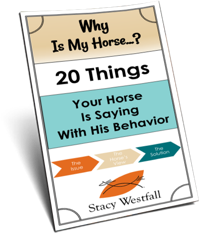 FREE PDF DOWNLOAD
WHY IS MY HORSE...?
Free PDF Download "Where is my horse...?"
20 things your horse is saying with his behavior.