Mismatch:(noun) a failure to correspond or match. a discrepancy.
Mismatched: (verb) match (people or things) unsuitably or incorrectly
In sports, there is something called a mismatch. I'm not a sports person but my husband is. My understanding of a mismatch is that when teams are preparing to play each other they study the strengths and weaknesses of the opposing players. 
They are often looking to predict if a mismatch might occur. If they see the potential for a mismatch, they plan to exploit it.
In sports terms it makes sense. In regards to horses and riders it also exists, but when we involve horses it is much more tempting to add emotion.
As a professional, I see different versions of mismatched horses and riders often. 
Right now, take a moment and visualize a well-matched horse and rider. Can you see how easy it looks? How it flows? 
Now picture a horse and rider combo that isn't as in sync. Somewhere in there we often find a mismatch. Here are several examples of mismatched horses and riders:
Horse lacks emotional training and becomes anxious easily, triggering anxiety in the rider (who is anxiety prone).

Horse is a bit lazy, rider is uncomfortable enforcing rules, horse now bucks when asked to move.

Horse is a high energy individual, owner wants to quietly walk down the trail once a week
The most common mismatch I see is a horse I will call 'complicated' matched with a rider who wants a 'simple' horse. Let's explore this specific example of a mismatch.
Example of rider
Riders who want a simple horse often:
busy lives

ride for enjoyment and relaxation

wants low risk of injury

wants predictable rides

enjoys time in the barn as much as riding
The rider who wants a simple horse is not asking for too much. I actually applaud people who have this much clarity in what they want. These horses do exist and I will discuss them later.
Example of horse
Let's look at some characteristics of the complicated horse:
young

lacking training

the class clown

highly creative

very high energy

very low energy

history of training that contradicts riders desire
As you can see, none of these characteristics are a true problem in and of themselves. You can also see that some of these are characteristics that can be changed, such as the level of training. Others are individual characteristics, such as highly creative.
 A horse that lacks training is not necessarily a problem horse but can easily become one.  A creative horse can be an amazing partner to a creative rider or can overwhelm other riders.
Predicting the match
Looking for a match or a mismatch isn't an exact science. The horse, the rider and the goals must all be taken into consideration. Those are three individual pieces that each deserve to be looked at.
Emotions are a piece of the puzzle. I would encourage you to write them down but set them aside. Feelings of failure, disappointment, questions of loyalty are often experienced but they can also cloud judgment. I like to picture myself setting them aside and then picking them back up at the end. They are real but they shouldn't be your only decision-making tool.
In this example, we are still looking for a simple horse to fit a rider who wants to ride once or twice a week and not much in the winter.
Analyzing the horse
Usually, the horse is fairly straightforward to analyze if you keep in mind that you are being asked to judge him as he is. For this exercise, we are not trying to identify potential. In another matching scenario we could add potential in as one of the factors but for this example, a search for 'potential' is going to fall into the complicated category.  In this example, we are looking for simple.
If you are not sure how to evaluate a horse then consider involving professionals or experienced friends. Complicated horses will be easy to identify because their behavior will require a lot of explaining. Simple horses will also be easy to identify because they are exactly as they appear to be without an additional explanation being needed.
Analyzing the rider
Generally, the most variable piece in the equation is the rider. To maximize success the rider would do well to understand what their goals are as well as their current ability level.
Many riders lack clarity. This will often make them seem open to a large number of options. There is nothing wrong with being open to options as long as the rider is fully aware of what they are saying. For example, the rider in this example may say they simply want a horse to ride occasionally. 
Do they define riding as walking only or do they want to ride all gaits?

 

Do they want to stay in a ring or head out on the trails?

 

Are the trails hilly or flat?

 

Is occasionally once a week or once a month or once a year?
While it might seem that this is a lot of questions I would encourage answering them. It is possible that the rider could change their mind but when given the chance most riders will surprise themselves with their knowledge of their dreams.
The rider also needs to understand their current knowledge level and their physical ability. Both of these are flexible to some degree but it is often helpful to start with understanding where they are at at the moment. Older riders are often more willing to admit some physical limitations that they don't anticipate changing. We all have limits that we have either accepted or are learning to overcome; acknowledging them is important.
The knowledge trap
Knowledge level is probably the most flexible component to study. People have an amazing ability to commit themselves to increasing their knowledge and to learning more. In a way, there is no limit to the amount of knowledge we can acquire. 
One noticeable limitation to knowledge is admitting that book knowledge is not the same as physically being able to accomplish the task. This doesn't diminish the power of knowledge but recognizes that riding horses is a physical sport.  Understanding a concept is not the same as being able to accomplish the physical task.
I admit that stating this may seem harsh but I assure you that I don't intend it to be. I have often seen people put themselves in physical danger because they were not willing to admit that physical limitations are real. It is easy to say that someone could completely understand the game of football and would still be ill-equipped to play the game at some level. The same thing is possible when riding horses. It is important to admit that there are varying levels of strength or fitness required to ride different horses. This is not a criticism of either horse or rider. 
Handling a mismatch
Similar to the way a sports analyst would study teams to predict matches or mismatches, riders should either self-analyze or find a professional to help determine a match or mismatch with a horse.
Admitting that a mismatch exists is not the end of the world. I have met many horse owners who have accepted the mismatch, chosen to keep the horse and instead change their goal. 
Maybe they wanted to ride and could reach that goal on a quiet older horse. Instead, they have admitted that due to physical limitations they are not safe on the slightly unpredictable horse they own that has bucked them off three times. They are willing to keep the horse as a pasture pet instead. 
I have also met riders who have doubled down on their learning or fitness level to bring themselves up to be a better match. 
Pick your problem
In my earlier example, I used a rider who wanted a simple horse to ride once or twice a week and not much in the winter. A great way to find these horses is to look for an older horse who may have some physical limitations. This could be an older show horse that cannot perform as well anymore or it could be a camp horse that can no longer be ridden all day during the camp season. Many people shy away from older horses because they know they have problems such as arthritis or special shoeing needs. 
These very real 'problems' can actually be a benefit. An older horse with some arthritis still needs to move to stay healthy and is often happy to only walk down a trail or be ridden less frequently. 
These older horses aren't as flashy as their young counterparts. Much like older people, older horses don't naturally have a youthful appearance. It is very easy for riders to get caught up in the 'potential' of a horse and overlook the complications that come with the unknown. 
No horse is perfect, which is fine because no person is perfect either. 
Advice for creating matches
My advice for creating a strong match is:
know yourself and your limitations (current)

know your horse and his limitations (current)

create a safe situation for both of you

create an enjoyable situation for both of you
Deal Breakers
Many mismatches between horse and rider can be solved by the rider changing their goals. The questions that generally surface in this discussion are, will you be satisfied if you change your goal? Can you afford to have another horse to aim for that goal with? Do you enjoy this with the limitations you both have? 
One of the quickest ways to find this answer to this is to ask, "If you didn't own this horse right now, would you go buy him again?" This is a question that my husband, Jesse, frequently asks people when trying to help customers clarify their goals. If the customer can put aside any possible guilt they may feel if they answer 'no' then the question can add clarity. A true yes or a true no is a great first step. 
I have seen people keep horses out of guilt and fear. While there is nothing wrong with this, it should be noted that there may be someone out there for whom your mismatch is a perfect match. 
I consider a mismatch to cross over to a deal breaker when safety is involved. I believe that a mismatch which greatly increases the likelihood of injury to either horse or rider should be a deal breaker. I often see people who are committed to keeping a horse despite the fact that it has injured them or is an accident waiting to happen. The unfortunate truth is that if the situation were reversed, and the owner was very likely to hurt the horse, we would all clearly see that it was not a functioning match. Just because humans are willing to sacrifice their safety doesn't change the fact that safety is being sacrificed. Often these people don't admit that the horse will gain a reputation that they may have avoided in more equipped hands.
When to sell
Deciding to sell a horse can be a tough decision. I've already outlined that just because a mismatch exists doesn't mean you need to sell. Instead, simply admitting and changing plans could be enough.
Some people will decide that selling is a better option. Hopefully, they do it with a feeling of hope, hope that the horse can find a better match and hope that they can be a better match.
I sell my own horses when they are not a perfect match for this same reason. I have trained many horses that worked for me but I knew they could be someone else's perfect match. This is a better vs best situation and I love it. I'm not rushed when selling, yet I remain open to the idea that there really could be a better home. 'Better how?' you might wonder. Well, if my goals are to show at a high level and it requires me to ask 110% of the horse every time, that same horse is often a superstar with a less experienced rider. That rider may only ask for 70-80% and be totally thrilled with the results. 
A mismatch doesn't' have to be a huge discrepancy to still be labeled not matching.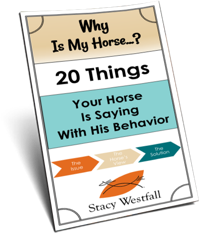 FREE PDF DOWNLOAD
WHY IS MY HORSE...?
No one taught you the skills you need to work through these things.
Riders often encounter self-doubt, fear, anxiety, frustration, and other challenging emotions at the barn. The emotions coursing through your body can add clarity, or can make your cues indistinguishable for your horse.
Learning these skills and begin communicating clearly with your horse.
Click here to learn more.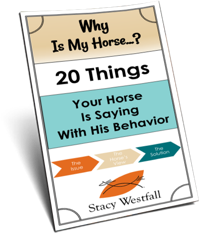 Free PDF Download "Why is my horse...20 things your horse is saying with his behavior"
PDF will be delivered to the email address you enter as will weekly tips from Stacy. Totally free. Unsubscribe anytime.