Have you ever felt stuck when evaluating a problem with your horse? I found myself drawing this chart over and over again in my journals and explaining it to friends. It is my simple evaluation tool that I use to analyzing problems or answer questions about horses and riders.
The problem.
When someone poses a problem they are having with their horse my mind automatically runs through this. For example, I was recently asked a question about a horse that gets nervous when trail ridden on hills. The person asking the question was clearly angling towards the idea that the horse was mentally nervous. 
While this is a good observation my mind jumped to the question, "What other things could be at work here?
What would make a horse nervous about hills? What makes them different than flat trails? 
The 4 square model.
Let me show you what runs through my mind quickly which is the 4 Square model in use. 
Horse's Mind– The rider described the horse's mind as nervous.
Horse's Body– Tired or sore could make the horse uncomfortable.
Rider's Body– Out of balance rider could make hills more difficult for the horse.
Rider's Mind– Rider didn't indicate any fear or stress related to the question.
Narrowing the problem.
This was a written question so I did not get to observe the horse and rider. I find that even with that limitation riders are often quite accurate in their descriptions. They tend to struggle more with how to understand what they are observing.  Both of my first thoughts revolve around the body of both the horse and the rider. 
I have often found that people have difficulty telling when their horses are getting tired. They can identify exhaustion but often don't accurately read the general decline that happens when a horse gets tired. In the past, I struggled with this myself. Even now I work to stay aware of how much quality energy my horse has when I ride.  Horses are similar to us in many ways and one is in the fact that their form when exercising will become less correct when they are tired. 
Less correct form often equals physical discomfort. Physical discomfort in the same situation over and over will increase the likelihood of anxiety around the situation. Something as simple as being tired or out of shape could be causing the nervousness. 
A simple test in this situation would be to dismount and lead the horse up and down the hills for a while.
WHAT?! DISMOUNT AND WALK?! I know, I have had that same thought before. You are in good company. 
Yep. And if that is a problem then it might just point to the other thing I mentioned. Out of shape riders are more likely to be out of balance. This can cause more work for the horse. 
Give it a try.
The 4 Square model is my quick little evaluation tool that I use every day when I ride and when I answer questions. Give it a try next time you get stuck.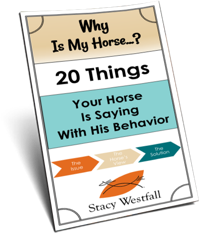 FREE PDF DOWNLOAD
WHY IS MY HORSE...?
No one taught you the skills you need to work through these things.
Riders often encounter self-doubt, fear, anxiety, frustration, and other challenging emotions at the barn. The emotions coursing through your body can add clarity, or can make your cues indistinguishable for your horse.
Learning these skills and begin communicating clearly with your horse.
Click here to learn more.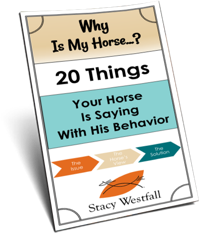 Free PDF Download "Why is my horse...20 things your horse is saying with his behavior"
PDF will be delivered to the email address you enter as will weekly tips from Stacy. Totally free. Unsubscribe anytime.