If you found your way to this post, and you've been to this website before, you probably notice a few changes.
Ok, a LOT of changes.
A do-over of sorts.
I remember a time earlier in my life when I treated progress as a checklist.
Completed grade 4. Completed grade 5. Completed grade 6. On and on the list went.
I took a weekend business course about a decade ago now and at the end of the weekend, I had only one question. "OK, once I do all of this, then what?" As soon as the question was out it the open I could see the teachers face drop. He looked me straight in the eyes and said, "Then you do it again."
My stomach dropped. Do it again? Look at all that time consuming, computer work when I could be riding a HORSE! Do it again?
But on second thought…isn't that exactly what I'm willing to do in the area I love? When I have to 'do-it-again' and go out and show the horse the same lesson 60 days in a row…I expect it. Do it again.
Last night we went down to the All American Quarter Congress to watch the reining futurity finals. Every one of the horses that made the finals had practiced again and again.
While we were there we bought a new pitchfork…because we all know where we spend a huge amount of time, right? A friend thought it would be funny to take a photo of us with it. Let's recreate that famous old photo.
Who knew having a straight face during a silly photo would be that hard?! We did it again, and again…and again.
Just like anything we want to get better at we must commit to doing it again.
Welcome to my new website. Take a look around but don't be surprised if you see changes when you return. I'm committed to improvement which also means I'm committed to doing it again.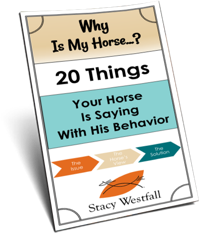 FREE PDF DOWNLOAD
WHY IS MY HORSE...?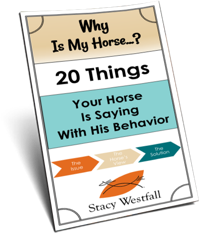 Free PDF Download "Why is my horse...20 things your horse is saying with his behavior"
PDF will be delivered to the email address you enter as will weekly tips from Stacy. Totally free. Unsubscribe anytime.