I joined a team last weekend. A good friend invited me to play. I've never agreed to anything like this before and as I told my husband, "It makes me excited and nervous."
My day planner also said I should do something that scares me…so I said yes. 
Yes, I will show a horse I have never ridden. In a class, I have shown in only twice. At a show, I've never been to before. 
When I say it like that I sound a bit crazy. Or adventurous. I like adventurous better. I'm claiming that one. 
So here is to ADVENTURE!!! Western Dressage World Show…here we come!
Do you have questions about our adventure? Please post them in the comments below and I'll be sure to answer!
Lia's already well documented in blogs. Check out these two to learn more about her.
http://www.chronofhorse.com/article/back-to-my-future-haflinger-adventure
http://www.chronofhorse.com/article/haflinger-adventure-personalities-and-preparation
http://www.chronofhorse.com/article/haflinger-adventure-a-once-in-a-lifetime-trip-to-kentucky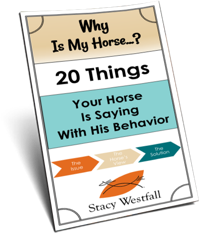 FREE PDF DOWNLOAD
WHY IS MY HORSE...?
No one taught you the skills you need to work through these things.
Riders often encounter self-doubt, fear, anxiety, frustration, and other challenging emotions at the barn. The emotions coursing through your body can add clarity, or can make your cues indistinguishable for your horse.
Learning these skills and begin communicating clearly with your horse.
Click here to learn more.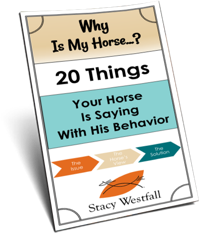 Free PDF Download "Why is my horse...20 things your horse is saying with his behavior"
PDF will be delivered to the email address you enter as will weekly tips from Stacy. Totally free. Unsubscribe anytime.