Turning forty is notorious for causing folks to reflect about their lives. I suppose everyone deals with it in their own way, but I went for a trail ride. People told me Happy Birthday but the horses treated me the same as usual…so I know everything is going to be just fine.
I thought that today's blog would simply say: I have been blessed, but as I typed the words it just didn't seem to be enough.
I am not denying that I feel blessed, I feel it so strongly at times that my over whelming desire is to cry and point out that I am not worthy. I am especially prone to this when I hear of someone else struggling; a baby dies, someone has cancer, a car crash takes a life. It makes me weak to think about these things. But it also liberates me.
Why not live now? Why not try now? What if this is the only time I do have?
Some people may be inspired by that thought, but if viewed from another angle, I could argue that it is just a realistic statement.
I have frequently said that, when someone tells me they have been inspired by me, I consider it the highest complement they could give me…but it also humbles me. Sometimes it downright scares me. Because I am just me. And I am far from perfect. But I have been blessed.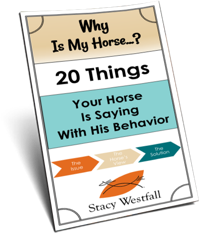 FREE PDF DOWNLOAD
WHY IS MY HORSE...?
No one taught you the skills you need to work through these things.
Riders often encounter self-doubt, fear, anxiety, frustration, and other challenging emotions at the barn. The emotions coursing through your body can add clarity, or can make your cues indistinguishable for your horse.
Learning these skills and begin communicating clearly with your horse.
Click here to learn more.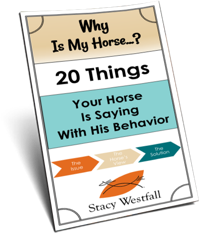 Free PDF Download "Why is my horse...20 things your horse is saying with his behavior"
PDF will be delivered to the email address you enter as will weekly tips from Stacy. Totally free. Unsubscribe anytime.