A beautiful photo on Facebook was my introduction to New Vocations and the racehorses they serve. I also experienced another moment, after visiting their website, where I turned to my husband and said, "It's a good thing we sold the house or I would be asking for a barn full of them!" Instead, I have become an avid follower of the New Vocations website at HorseAdoption.com: Warning-this can become addictive! They update the photos and videos regularly as well as posting new horses frequently. I also decided to follow them on Facebook, which brings all those awesome updates directly to my phone.
This week I was able to meet the horses and humans that make up this wonderful organization and to learn more about the program. New Vocations Racehorse Adoption Program a 501 (c) 3 charity was founded in 1992 to offer retiring racehorses, both Thoroughbred and Standardbred, a safe-haven, rehabilitation, and continued education through placement in experienced, caring homes. The Mission of New Vocations is to stand in the gap for retired racehorses providing a safety-net through rehabilitation, education, & placement in qualified, caring homes.
New Vocations has worked hard to educate both those inside the racing industry as well as the general public. It was interesting to learn about how the horses arrive at New Vocations as well as the process used to rehab, retrain and rehome them. This short interview with Anna Ford does a great job summarizing what I learned about New Vocations on my first visit and holds a little surprise at the end…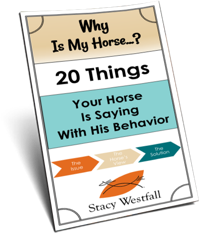 FREE PDF DOWNLOAD
WHY IS MY HORSE...?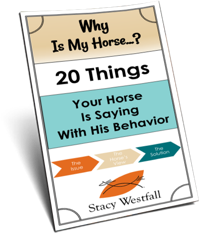 Free PDF Download "Why is my horse...20 things your horse is saying with his behavior"
PDF will be delivered to the email address you enter as will weekly tips from Stacy. Totally free. Unsubscribe anytime.