An article popped up unexpectedly on my Facebook page titled, Stacy Westfall is Living My Dream Life, and played a part in inspiring yesterdays blog.
It is always strange to read an article that was written about me without my prior knowledge. It is another way to see how other people perceive you as well as what common desires people share.
Leslie, the writer, happens to daydream about full time living on the road with her horse. Not everyone would agree, in fact there are days that I even question it. But even if you don't share that same dream there are still lessons that can be learned from the idea.
When I have my doubts, which I am planning on sharing more of with you in the future, I have a way that I deal with it. I ask myself a question: How hard would it be to go back? or another way to look at it would be: How hard would this be to undo?
If I decided tomorrow that I didn't want to live full time on the road, I am confident that I could buy another house in Mount Gilead, Ohio. The transition to go back would be easier than the transition to leave…which is probably why fewer people do it.
But if you can turn it around, view it another way, it is liberating.
What dream are you not pursuing because the transition into the dream would be hard…even though the transition back would actually, now that you think about it, be easy?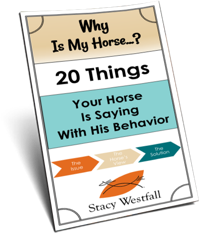 FREE PDF DOWNLOAD
WHY IS MY HORSE...?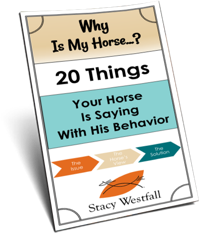 Free PDF Download "Why is my horse...20 things your horse is saying with his behavior"
PDF will be delivered to the email address you enter as will weekly tips from Stacy. Totally free. Unsubscribe anytime.