I am currently rebuilding my website and would love your feedback. I know what I like and dislike about sites when I visit them. I like good information,search buttons and photos. I also know my site could be improved. What do you like or dislike about websites when you visit them?
pictures-lots or few?
search button
members only section
about us page
shopping page
contact page
FAQ page
I am also guilty of not sending out newsletters like I should…I know this because some of you email me and ask me 'why haven't I received an email'?
What do you like to have in a newsletter?
upcoming events
sale items
videos
private 'member' only section
contests?
I also like contests. I do! I'm a sucker for a gift card or other prizes for answering questions.
In keeping with that thought I am going to give away three Jac DVD's to people who leave comments below this post offering their insights. If you just post 'hello' or something…that won't count but if you leave ideas you will be entered into a random drawing!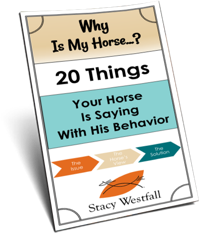 FREE PDF DOWNLOAD
WHY IS MY HORSE...?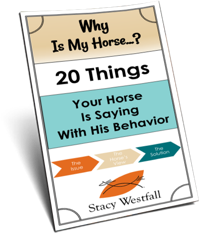 Free PDF Download "Why is my horse...20 things your horse is saying with his behavior"
PDF will be delivered to the email address you enter as will weekly tips from Stacy. Totally free. Unsubscribe anytime.