Years ago in Maine I took dressage lessons. That is where I struggled to learn what a diagonal was and also learned that the horses knew the lessons better than I did. My dressage did NOT look like this video. I wish it had….
Fast forward many years and I found myself at a horse expo sitting on Roxy (bareback and bridleless) talking with Jane Savoie-telling her I wanted to ride dressage. She said something like, "Honey, you already are."     That made me laugh and respond…"Well, then I want the cloths and the tack too!"
There are so many things I would like to do in life but there just isn't enough time in the day. Some day I would love to train a warmblood. There are some moves they do that I would love to ride. This video just gave me another small burst of 'I want a warmblood.'
If you want to know what the words say the Youtube description has a translation.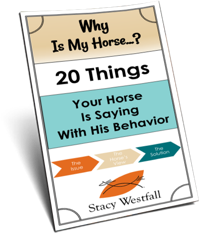 FREE PDF DOWNLOAD
WHY IS MY HORSE...?
No one taught you the skills you need to work through these things.
Riders often encounter self-doubt, fear, anxiety, frustration, and other challenging emotions at the barn. The emotions coursing through your body can add clarity, or can make your cues indistinguishable for your horse.
Learning these skills and begin communicating clearly with your horse.
Click here to learn more.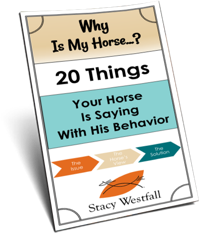 Free PDF Download "Why is my horse...20 things your horse is saying with his behavior"
PDF will be delivered to the email address you enter as will weekly tips from Stacy. Totally free. Unsubscribe anytime.