Returning to Texas last night from my trip to Ohio I felt tired. I still do. But- I have done such a good job of embracing the Michener quote that I am left wondering if I was working or playing…or both.
Maybe it is the idea that 'play' shouldn't be tiring. I just spent a long weekend at a horse show with friends who work 'regular' jobs and I watched them having fun and working hard…so play is often tiring.
Or maybe it is the idea that work should be hard. Driving horses from Texas to Ohio for a customer wasn't so much hard as it was just long. Spending time with my son and paying for my trip to the show was a bonus too.
I think my mind still fights for a traditional work schedule at times. A schedule that says; Monday-Friday from 8-5, vacation days, etc. Why? Why does my brain do this to me? Is it for the security of knowing the plan ahead?
But who really knows the plan? People think they do up until the car accident, the cancer diagnosis, the pregnancy test results or the innumerable other moments that redirect the plans we have for ourselves.
13 Come now, you who say, "Today or tomorrow we will go to such and such a city, and spend a year there and engage in business and make a profit." 14Yet you do not know what your life will be like tomorrow. You are just a vapor that appears for a little while and then vanishes away. 15Instead, you ought to say, "If the Lord wills, we will live and also do this or that."…(James 4:13-15)
Maybe it is enough to pursue excellence in what I can see at this moment. Maybe it is enough to live now as if I may not have tomorrow. Or as if I had many more tomorrows. Maybe if the line is blurry it is a good thing.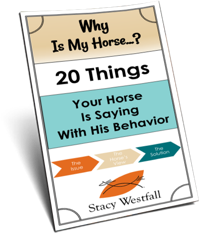 FREE PDF DOWNLOAD
WHY IS MY HORSE...?
No one taught you the skills you need to work through these things.
Riders often encounter self-doubt, fear, anxiety, frustration, and other challenging emotions at the barn. The emotions coursing through your body can add clarity, or can make your cues indistinguishable for your horse.
Learning these skills and begin communicating clearly with your horse.
Click here to learn more.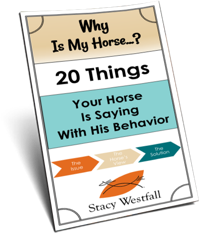 Free PDF Download "Why is my horse...20 things your horse is saying with his behavior"
PDF will be delivered to the email address you enter as will weekly tips from Stacy. Totally free. Unsubscribe anytime.