Moving around the country with horses is a challenge. Without horses we could stop at any gas station, any restaurant or any coffee shop. With horses we are limited on our parking, we must find diesel fuel and at night the horses need a place to stay.
There are other things to consider such as how much hay we can carry with us as well. We keep our grain the same and when we get new hay we mix it with what we are carrying.  I have learned to carry alfalfa cubes along because they are consistent and they take up less space. I add water to them and Newt loves the game of trying to catch them much like bobbing for apples. It only lasts a bit because then the cubes absorb the water and fall apart but he still enjoys the bobbing while it lasts.
During this trip I had a full load of horses when I headed east which limited the hay I could carry. I had heard about the compressed bales that can be bought at farm stores and thought I might give them a try.
At the store I wasn't impressed with the way they looked on the outside. Maybe it was just that batch but I actually confused the alfalfa for straw when approaching the isle! On closer inspection I could see it was hay…but it wasn't a good first impression. The young lady working at the store asked if she could help me and I asked if there were any other options for hay. After exploring what the store had (I passed) she also showed me the community bulletin board and introduced me to someone who had a farm and horses.
The lady with horses said she had extra hay. She also said she was going to be passing by where I was and even offered to drop the hay off to me…now that's service! Again I am reminded of how friendly and helpful most people are.
Even gas station stops are more interesting with horses. Some people, like this young lady, recognize the trailer and stop to talk (she made her mom turn around and drive back) and others just want to see the horses. All are positive and friendly.
This is good news for us as Joshua and I will be heading back to Texas tomorrow. We are also talking about moving to Pennsylvania for July and August which would mean yet another big trip just around the corner and meeting even more people.
Traveling with horses can be a challenge but on the positive side, my gelding, Newt has finally stopped pawing in the trailer after being hauled about 5,000 miles this spring!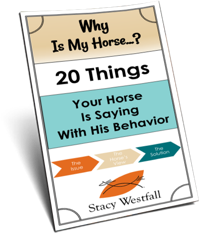 FREE PDF DOWNLOAD
WHY IS MY HORSE...?
No one taught you the skills you need to work through these things.
Riders often encounter self-doubt, fear, anxiety, frustration, and other challenging emotions at the barn. The emotions coursing through your body can add clarity, or can make your cues indistinguishable for your horse.
Learning these skills and begin communicating clearly with your horse.
Click here to learn more.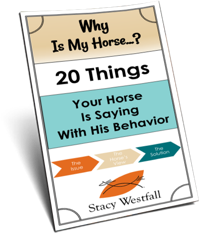 Free PDF Download "Why is my horse...20 things your horse is saying with his behavior"
PDF will be delivered to the email address you enter as will weekly tips from Stacy. Totally free. Unsubscribe anytime.