"Will us (fans) ever see you doing another bridleless/bareback routine??…. I remember seeing a video someone posted on youtube (you/Roxy/Maggie) … Templeton Thompson was singing your song…… but then Roxy died and then Vaquero and I guess Maggie is retired…. so I was wondering if you have given up on that dream… or have you even thought about at all?"-Lesia Lowe
I am a big believer that when the time is right, things will happen. My job is to be prepared. I don't know if another bareback/bridleless routine will happen again or not. As you saw in the video with Roxy and Maggie (below) I was experimenting with this as a possibility. I wasn't sure if I could ever get it to a show level…but Maggie never recovered from a suspensory injury that she sustained running in the pasture and we turned her into a broodmare. Did you realize that Maggie is Newt's mom?
I work my horses and give them opportunities but they get to make choices too. Maybe it will happen, maybe it won't. I don't lose sleep over it but I don't sit on the couch thinking it will 'just happen' either. I work and then let the chips fall where they may…thats the mystery of life. I'm starting Newt's two year old half sister right now (another Maggie baby) and I have plans to ride more of Roxy's granddaughters.
I don't know where life will lead…two years ago if you told me I would be living full time in a motor home I would have laughed at you…but I did leave the door open 🙂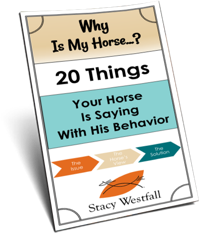 FREE PDF DOWNLOAD
WHY IS MY HORSE...?
No one taught you the skills you need to work through these things.
Riders often encounter self-doubt, fear, anxiety, frustration, and other challenging emotions at the barn. The emotions coursing through your body can add clarity, or can make your cues indistinguishable for your horse.
Learning these skills and begin communicating clearly with your horse.
Click here to learn more.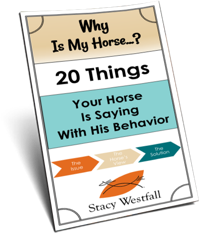 Free PDF Download "Why is my horse...20 things your horse is saying with his behavior"
PDF will be delivered to the email address you enter as will weekly tips from Stacy. Totally free. Unsubscribe anytime.