Yippy! Newt is giving bridleless riding a try!
This is a video of the first time I took the bridle off Newt and rode him around. Newt is six years old in this video and I started his under saddle training as a two year old.  I had been practicing the cue system during his entire training. For several months before this I had also been tying the reins up and focusing on riding with only my body, leg and voice cues. I chose to ride with a neck rope (one of my reins removed from my bridle) because Newt liked the familiar feeling of the neck rein cues and was more relaxed and confident.
Please realize that many, many hours of training have happened prior to this and you should not try riding bridleless unless you are confident that you have a clear communication system with your horse that doesn't rely on the bridle in case of an emergency. The prior sentence is not meant to be reversed to imply that the bridle should be your emergency system…but the reality is that for many people the bridle is their strongest form of communication with their horse in an emergency.
If I sound a bit concerned it is because I know that other videos of me riding bridleless have inspired many people to give it a try. Many have had success but there have been a few that have been injured because they (either horse or rider or both) were not properly prepared. Just last year I met a trainer who said one of his youth girls broke her leg while trying to imitate my ride.
Clear communication through consistent training is the key…I'm just saying don't just pull the bridle off and hope for the best as it isn't fair to either you or your horse 🙂
This was videoed in February 2015 while we were in California. You may also find it interesting that I have only ridden him bridleless a handful of times between then and now as I am still continuing to advance his 'in the bridle' training.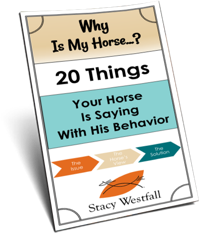 FREE PDF DOWNLOAD
WHY IS MY HORSE...?
No one taught you the skills you need to work through these things.
Riders often encounter self-doubt, fear, anxiety, frustration, and other challenging emotions at the barn. The emotions coursing through your body can add clarity, or can make your cues indistinguishable for your horse.
Learning these skills and begin communicating clearly with your horse.
Click here to learn more.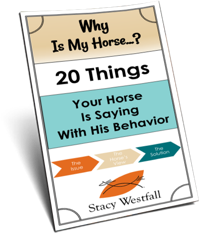 Free PDF Download "Why is my horse...20 things your horse is saying with his behavior"
PDF will be delivered to the email address you enter as will weekly tips from Stacy. Totally free. Unsubscribe anytime.