"Stacy, A while back you posted a video about laying your horse down… I followed it and today is day 5 and he has been down about 5 times now! Thank you for such a cool way to approach the lay down!" -Alisha P.
I love finding success stories like this one posted on my Facebook page! It is inspiring for people to read that the techniques shown worked on someone else's horse. Watching a video or reading tips online can be intimidating but reading about someone having success make it a bit less so. Here are some of the comments and questions that Alisha has received about here experience:
Alisha P. could you share that link for me. Please thank you

http://www.google.com/url?sa=t&source=web&cd=2…

Kyla J…. Hope that link works… If not just YouTube Stacy westfall laying horse down. Such a cool way of teaching a horse to lay down!

thank you.. I have a candiate i want to teach…

Alisha P. how easy was this to teach?? I have a crazy smart apply guy… Would like to try this.. how well did Nelson bring his feet together.

He went down on day 4… First day I just put him on the fence to teach the concept…. Day two expected him to build on day 1. Day 3 started asking for him to walk his back feet up in the middle of the pen off the fence. Day 4 would ask him to hold the position and go further. Sometimes when he would make a mistake he would quickly correct himself and start to buckle in his front end like he was thinking down. When he did go down it was his idea and he was really quite. I have done it 4 times since then and each time he goes down faster and faster. Nelsyn has a really good foundation and was ready for this next step. I found it to be great way to teach the lay down and can't wait to try it on another horse! Good luck and have fun teaching your horse… Let me know how it goes!
This conversation is happening right now on the 'Posts to Page' section of my Facebook account. If you want to ask Alisha a question jump on there and ask her…she hasn't had any warning but she has been trying to answer people. If you have a question for me feel free to post it in the comments here. I have also embedded the video Alisha used below as well.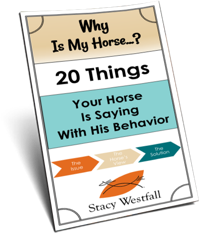 FREE PDF DOWNLOAD
WHY IS MY HORSE...?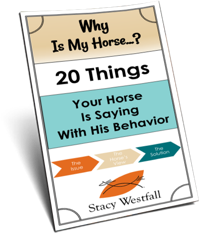 Free PDF Download "Why is my horse...20 things your horse is saying with his behavior"
PDF will be delivered to the email address you enter as will weekly tips from Stacy. Totally free. Unsubscribe anytime.