"Hey Stacy, I was wondering, is 21 too old to teach some of the stuff in your videos? As I have a 21 year-old I'd love to do more work with. Thanks." -Lydia S.
I was asked this question years ago by a young girl around the age of 13. She owned a  20+ year old horse. I told her that how much she accomplish would depend on her persistence and consistency and some on her horses willingness. She watched my demos at the expo and before it was over she bought my Bridleless riding DVD.
Several months later I received an email from her.  She sent me a link to a video where she was riding her horse bridleless! The horse was clearly a 4H type horse so her pattern looked more like a horsemanship pattern and her 'rollbacks' were simple pivots…but it was AWESOME! One young persistent girl and one older horse. I wish I still had that video link but all of this happened back in 2006 and the computer it was on died. I didn't have anything backed up so it took all the info with it 🙁
I can't say exactly how far the stuff will take you…but I will tell you that it IS VERY POSSIBLE!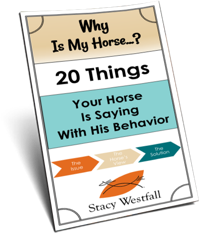 FREE PDF DOWNLOAD
WHY IS MY HORSE...?
No one taught you the skills you need to work through these things.
Riders often encounter self-doubt, fear, anxiety, frustration, and other challenging emotions at the barn. The emotions coursing through your body can add clarity, or can make your cues indistinguishable for your horse.
Learning these skills and begin communicating clearly with your horse.
Click here to learn more.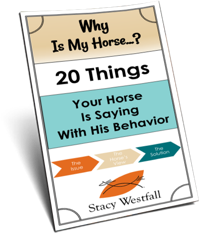 Free PDF Download "Why is my horse...20 things your horse is saying with his behavior"
PDF will be delivered to the email address you enter as will weekly tips from Stacy. Totally free. Unsubscribe anytime.