We attended our first horse show of the year last weekend in Springfield, Ohio. While walking around I got thinking about my favorite reasons for attending horse shows. As I formulated my own ideas I also began asking other people what they liked about going to shows.
These were some of the answers;
the horses; preparing and taking the test, showing, the competition
the horse people; hanging out with other people who love horses observing and learning
vacation; away from home, no cooking or cleaning the house, traveling places
For years I didn't like showing because I thought it was all about winning or losing. I became a believer in showing when I began to see the benefits of having a goal; my riding improved, my signals became more refined which translated into better communication with my horses. I learned how to use training cycles because of going to horse shows.
In addition to the horses, relationships with people were developed and it added a whole new level of enjoyment to the shows. This thought was confirmed in a recent conversation with a lady who is going to a show this weekend…without her horse. He isn't ready but she still craves the atmosphere.
What do you like about going to shows?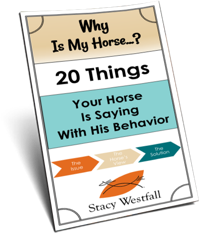 FREE PDF DOWNLOAD
WHY IS MY HORSE...?
No one taught you the skills you need to work through these things.
Riders often encounter self-doubt, fear, anxiety, frustration, and other challenging emotions at the barn. The emotions coursing through your body can add clarity, or can make your cues indistinguishable for your horse.
Learning these skills and begin communicating clearly with your horse.
Click here to learn more.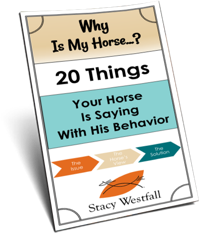 Free PDF Download "Why is my horse...20 things your horse is saying with his behavior"
PDF will be delivered to the email address you enter as will weekly tips from Stacy. Totally free. Unsubscribe anytime.