Here it is…the first 'Stops with Stacy' featuring our visit to the historic Waggoner Ranch in Vernon, Texas. We actually went to Electra, Texas to the horse headquarters…you know you are on a BIG ranch when it overlaps different towns!
The ranch was established in 1849 and is approximately 535,000 acres which makes it the largest ranch in Texas under one fence. We went over for the day to ride and spend time with the head trainer, Ben Baldus and his crew.  We knew Ben years ago but this is the first time we visited him at the Waggoner.
Touring the ranch is like walking straight into a history lesson. Back in 1945 E. Paul Waggoner bought Poco Bueno for the outrageous price of $5,700 for a yearling. People thought he was crazy to pay that much but Poco Bueno is now an American Quarter Horse Hall of Fame Inductee, Champion and Sire of Champions. Looks like Waggoner had a good eye. Poco Bueno is buried on another section of the ranch and many of the horses carry on his bloodline.
The guys offered to take us on a tour, take us to lunch or start some colts…I hesitated for about 10 seconds because I want to see the rest of the ranch but watching them START COLTS jumped out of my mouth even faster. Thankfully they invited us back so maybe I can still get that tour. Did you know? When Poco Bueno died he was buried in an upright position. There has to be a story there. I will have to go find out more details on that.
For those who are wondering those shots in the beginning are of the ranch, Major Cattle Company, where we are currently living. Maybe one of the 'Stops with Stacy' should be a tour of the Majors ranch. I'm open to suggestions, if you have an idea for a 'Stops with Stacy' feel free to post it in the comments.
Thanks again to my sponsor Tekonsha, the leader in electronic trailer brake controllers, for coming up with the concept and the name 'Stops with Stacy', I think this is going to be fun!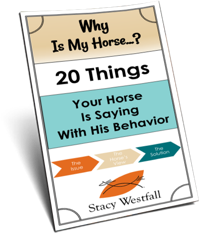 FREE PDF DOWNLOAD
WHY IS MY HORSE...?
No one taught you the skills you need to work through these things.
Riders often encounter self-doubt, fear, anxiety, frustration, and other challenging emotions at the barn. The emotions coursing through your body can add clarity, or can make your cues indistinguishable for your horse.
Learning these skills and begin communicating clearly with your horse.
Click here to learn more.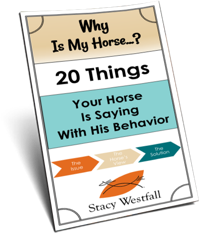 Free PDF Download "Why is my horse...20 things your horse is saying with his behavior"
PDF will be delivered to the email address you enter as will weekly tips from Stacy. Totally free. Unsubscribe anytime.