Jac entered training in March of 2013. This footage was filmed over several rides in March 2014, one year later. Total Training Time 120-125 hours
This video does a great job showing Jac's physical training; lead changes, spins, slides and general understanding. What it doesn't show as well is the mental connection.  To see that you need to watch Episode 26 or Episode 12 which explained what happened at the beginning of Episode 9 and then for a good laugh you can watch Jac drag me all over the place back in Episode 3. The things that happen 'in the barn'; the mistakes, the questions the horse asks, how the trainer handles the horse and how the horses respond to the training often tells you more about the relationship than the 'show footage' will.
The purpose in sharing Jac's story was to give insight into the training methods that I use. I do not claim that they are the only way to train a horse but they are a good representation my way of training. I do believe that the videos captured many of the moments that I have always wanted to share with people.
Working with Jac has also been a very personally touching tribute to Roxy. The  footage at 5:45 gave me chills…and again at 8:09.
"If you've ever wondered how Roxy and I achieved the partnership that we did … Jac's journey will show you. All horses deserve to have this foundation and it is never too late to build it."-Stacy Westfall
For those of you who have been wondering and waiting….YES! The DVD is here!
It is so new and hot-off-the-press that there isn't even a web-link yet but if you want to order the full 7 hour DVD for $99.99 you can call 1-800-648-1121.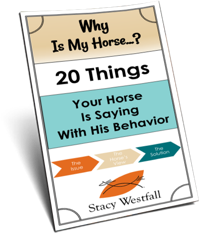 FREE PDF DOWNLOAD
WHY IS MY HORSE...?
No one taught you the skills you need to work through these things.
Riders often encounter self-doubt, fear, anxiety, frustration, and other challenging emotions at the barn. The emotions coursing through your body can add clarity, or can make your cues indistinguishable for your horse.
Learning these skills and begin communicating clearly with your horse.
Click here to learn more.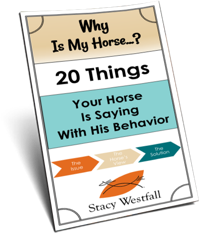 Free PDF Download "Why is my horse...20 things your horse is saying with his behavior"
PDF will be delivered to the email address you enter as will weekly tips from Stacy. Totally free. Unsubscribe anytime.