I am a fan of horses spending as much time out as possible. I love the idea of horses being out 24/7….but in many of the places I visit the weather also plays a part in this decision.
When I lived in Ohio we had run in sheds that had gravel and small paddocks. If the weather was bad, freezing rain for example, we would put rain sheet or rain blankets on them. Still there were times that I would bring them in. Slippery ice or ground frozen with hoof-pot-holes or excessive cold with wind were times that I would bring them in. I always liked having stalls available if the weather was bad. The horses always seemed to appreciate the chance to be sheltered from the elements. They also enjoyed the chance to run and play in the indoor because even though they were outside the footing wasn't good for running and playing.
Some areas of the country are different. I just rode for hours in New Mexico in several inches of snow with no risk of mud or ice. It was also noticeably nice when we were in the ravines where the wind blew over but the sun shone down to warm us.
I have been on ranches where the horses were expected to find shelter themselves; among trees, along ravines, etc. I haven't personally done this but there are areas in the country where I have heard it is possible.
When I have written other posts involving stalls or shelter I have received comments like:
"The BEST kind—they don't have stalls!!!!"
Again, I love the idea of horses being out a lot but I would also like to know where you live if you have no stalls. Or does 'no stalls' mean no stall but you do have a run in shed? Or do you have nothing at all? So here are my questions:
What part of the country do you live in? What weather issues do you have; freezing temperatures, wind, mud, hail, ice, heat, snow? What type of shelter do your horses have access to; run in shed, trees, stalls, etc?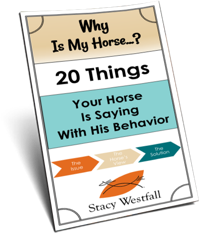 FREE PDF DOWNLOAD
WHY IS MY HORSE...?
No one taught you the skills you need to work through these things.
Riders often encounter self-doubt, fear, anxiety, frustration, and other challenging emotions at the barn. The emotions coursing through your body can add clarity, or can make your cues indistinguishable for your horse.
Learning these skills and begin communicating clearly with your horse.
Click here to learn more.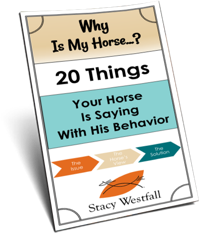 Free PDF Download "Why is my horse...20 things your horse is saying with his behavior"
PDF will be delivered to the email address you enter as will weekly tips from Stacy. Totally free. Unsubscribe anytime.