During the huge response to yesterdays blog titled Where do you live and what shelter do your horses have? Cindy asked the following question.
"I love the idea of a big open barn or run in for shelter but how do you feed? I have a piggie who will chase the others off if I try to feed together. Having the stalls lets me separate them."-Cindy
I have done several things in this situation but I would also love to hear how others have handled this.
When I have had horses turned out I tried to put them in similar groups. I often had two pastures, one for the 'easy' keepers and one for the young and growing who required more calories. In those pastures I often fed different types of hay due to the calorie needs and also different amounts of ration balancer (a type of grain) or fat supplement if needed.
I fed the horses far enough apart that it was not very effective for the horses to move each other. If fed too close together one horse could 'guard' more than one feed pile but with more distance they would maybe switch once or twice but frequent switching wasn't worth it. On the occasion that one horse was a real trouble maker we have also stood and guarded the horses that were being pushed during the grain feeding time, which is the only time this was an issue. I feed a low volume ration balancer so standing guard doesn't take that long.
Another thing I have done is to tie the horse that pushed the others during feeding time. While tied I could then do other chores such as cleaning and then untie them when the feeding time is over. Most of our horses have free choice hay and share it well. The few easy keepers we have had were feed together and if they tried to guard the hay we just spread it out further…and they got more exercise moving around.
Unfortunately, I have seen horses in situations where people have 'let them work it out' and the 'low' horse in the pecking order didn't get enough to eat. It is especially easy for people to over look this during the winter when the horses are very fuzzy and the human doesn't realize how much weight the horse may be losing. Be sure to run your hands over the horses frequently to feel, rather than see, what their weight is under all that hair.
How would you answer Cindy's question? Do you have one horse that will chase others? How did you handle it?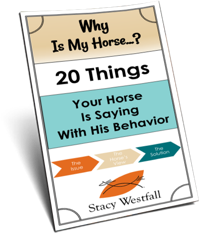 FREE PDF DOWNLOAD
WHY IS MY HORSE...?
No one taught you the skills you need to work through these things.
Riders often encounter self-doubt, fear, anxiety, frustration, and other challenging emotions at the barn. The emotions coursing through your body can add clarity, or can make your cues indistinguishable for your horse.
Learning these skills and begin communicating clearly with your horse.
Click here to learn more.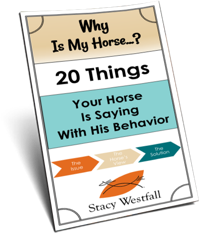 Free PDF Download "Why is my horse...20 things your horse is saying with his behavior"
PDF will be delivered to the email address you enter as will weekly tips from Stacy. Totally free. Unsubscribe anytime.