"How long do you think a horse remembers a person?"-Sharon H.
If the person made an impact I believe a horse can remember a person for a very long time. I know that horses can retain cues and training ideas that they learned when they were young for a lifetime, even if the cue hasn't been used in years. I believe that horses can remember people who were memorable for a lifetime.
I personally have had a few horses that have also backed me up with this idea by their responses, one was my horse Scrapper. When I was a teenager I bred my mare once and raised one foal, Scrapper. I also timed his birth to line up with my plans to attend the University of Findlay Equestrian Program where I would be starting two year olds my Sophomore year. I attended Findlay for four years and Scrapper was with me for three of those.
I graduated in May, was married in June and then began my married life…broke. Jesse often laughs and tells me that I married him for his money because he had a dollar in his pocket and I had only debt. Within a few months I was at a horse show with Scrapper when another trainer approached me about buying him. She offered me $5,000.00 and left me completely confused. I had raised and trained Scrapper but we were completely broke. After much struggle I decided two things; I would sell Scrapper but someday I would buy him back. I stayed true to both and during the years that I didn't own Scrapper I kept track of who owned him and how he was doing.
I owned him for six years, sold him for six years, and then bought him back. He had five different owners during that six year period and countless experiences both good and bad. I followed him through each move including a trip to Tattersalls horse auction in Kentucky in an attempt (failed) to buy him back. Eventually he began to have soundness issues and the last owners were happy to sell a not quite so sound horse for $5,000.00.
It was during this time when I didn't own Scrapper that he taught me a lesson in memory. I was at an AQHA horse show preparing for the reining class when I walked up to the show office, on the way I walked down the stall isles. My focus was on my paperwork but out of the corner of my eye I noticed the horses I was walking by. I think any horseman watches for unusual behavior out of habit. On my trip to the office I noticed one horse that seemed excited but quickly wrote it off as probably a young horse that was new to horse shows.
On the way back from the office I again noticed the excited horse but something else stood out. It was strange how he was pressing himself up against the bars, young horses will sometimes pace like he was…but something was off. I paused and looked at the very blanketed horse. He had several layers of blankets and hoods but even though I could only see his nose, ears and eyes…something seemed familiar. And unusual. It was like he was staring straight at ME. Other people walked by but this horse never looked away, from the time I stopped to look he stopped and stared at me. This was also not normal. Then it dawned on me…could it be? I knew Scrapper was showing at AQHA shows but I didn't know he would be here. I started crying. Silly horse had picked me out and made a fool of himself to get me to notice. Of course I cried.
I have had enough experiences similar to this one over the years to let me know that horses do remember and recognize people that mean a lot to them.
P.S.- I did buy Scrapper back, my kids also had the privilege of riding him and he is now retired and hanging out in Maine with my mom. This is a video of  Scrapper being ridden for the first time by my son Joshua. I know that Scrapper is sore in the video and you will be happy to know that his heart bar shoes with wedge pads have helped tremendously.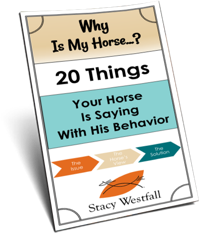 FREE PDF DOWNLOAD
WHY IS MY HORSE...?
No one taught you the skills you need to work through these things.
Riders often encounter self-doubt, fear, anxiety, frustration, and other challenging emotions at the barn. The emotions coursing through your body can add clarity, or can make your cues indistinguishable for your horse.
Learning these skills and begin communicating clearly with your horse.
Click here to learn more.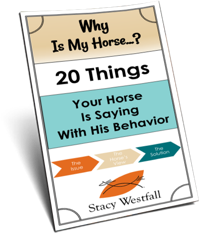 Free PDF Download "Why is my horse...20 things your horse is saying with his behavior"
PDF will be delivered to the email address you enter as will weekly tips from Stacy. Totally free. Unsubscribe anytime.