"Was either one of them (Presto or Justice) traumatized at this second separation or were they able to shrug it off like a weaning?"
When I adopted Presto from Last Chance Corral I was required to take two foals. In my recent blog and FB posts I have described how and why we chose Justice. I've also shared that Justice is now a full-fledged police horse after graduating from Asbury Universities Equine Program for police horses.
In this post, I would like to wrap up the story of Presto and Justice…almost.
One thing I liked about the pairing of Presto and Justice, from the day that we picked them up at Last Chance, is that they were not best buddies. Justice was hanging out with a group of healthier draft cross foals and Presto…well, Presto had been very sick. He appeared a bit dazed and not quite well. The two were comfortable with each others company but they were not desperate for it.
Once home, they spent the next three months together. I did keep other horses around them. They shared a fence line with older horses on both sides but for their own safety, they were not turned out with older horses until they were four months old.
As I trained them both to lead and eventually tie, I made a point of separating them. Sometimes I would leave one in the stall and lead the other. Sometimes I would move them into stalls that were beside each other but had a solid wall between them. I was purposeful and would bring them back together only when they were quiet.
I also watched their interactions.
In the beginning, it appeared that Justice was the more dominant one. He tended to be more curious and bolder. He approached the older horses first. He tended to be the leader while Presto followed.
Looking back, I think much of this difference was due to health. Justice was healthy and Presto was still recovering from his bouts with rotavirus. Justice was curious but he didn't go out of his way to move Presto around. They simply existed together.
Around three months of age things started to change. By that time Presto was feeling much stronger and he began to notice things. He noticed that if he shoved his head into the grain bucket Justice would walk away to the other bucket. While this may have been an accidental discovery it soon became a game. Presto would go shove his head into the bucket Justice ate from and Justice would walk away. Two minutes later Presto would go and repeat the same behavior again. No ear pinning, no kicking, nothing special but it was something new.
At four months of age they were turned out with other horses. Presto and Justice stayed together but they also studied the other horses. They quickly learned to read the other horses. Justice may have been the first to say 'hello' but Presto was the one who asked if he could nurse. He quickly learned what 'no' looked like from other horses…although he still asked the question.
I continued training them separately. Haltering, leading, tying, and separating them at times. By October they lived in separate stalls but were still turned out together. In November, Justice loaded on a trailer and went to his new home at Asbury University in Kentucky.
I treated this very similar to how I would have weaned a foal from its mother. I had gradually trained them to understand short times apart. I had introduced them to other horses. And now that they were separated I made sure Presto was surrounded by other horses he knew.
In Kentucky, Justice was also introduced to other horses and the many equine students who instantly loved him.
'Weaning' Presto and Justice from each other was more simple than weaning most mares and foals. Was it their temperaments? Their handling? Their individual relationship?
It was probably a little bit of all these things.
I did wonder though…what would it be like if they saw each other again?
I've seen foals 'meet' their mothers again years later and recognize them with excitement. Would Presto and Justice be excited to see each other again?
Next Monday, May 18th, I will share a video of the Presto and Justice meeting each other about a year and a half later.
I'll save that story for next week but I will say…it was pretty dramatic!
—————————–
I've owned Presto now for four years. He has grown so much and I'm finally ready to start sharing his adventures
What questions do you have for me?
#PressonRegardless #Presto #Equithrive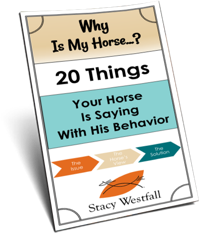 FREE PDF DOWNLOAD
WHY IS MY HORSE...?
No one taught you the skills you need to work through these things.
Riders often encounter self-doubt, fear, anxiety, frustration, and other challenging emotions at the barn. The emotions coursing through your body can add clarity, or can make your cues indistinguishable for your horse.
Learning these skills and begin communicating clearly with your horse.
Click here to learn more.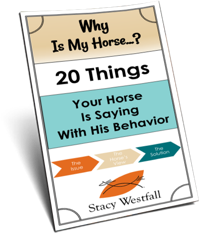 Free PDF Download "Why is my horse...20 things your horse is saying with his behavior"
PDF will be delivered to the email address you enter as will weekly tips from Stacy. Totally free. Unsubscribe anytime.