There are days where there just isn't enough time to do everything that is needed and this week seems to be full of them. The one thing that I really, really didn't want to give up during the move was riding…but it has happened.
In general, my desire to ride goes hand in hand with my chosen profession. There are days where even though my business is 'horses' that I spend more time on a computer or doing paperwork but for the most part I can still ride.
But then there are other times….
Like this week. Today I decided to just accept that I am not likely to ride again until I am in Texas. Even though I decided this hours ago, I still feel tense just typing the sentence. Especially because it is my 'job' to ride…skipping a ride is a double negative; I don't get to ride (which I enjoy) and I am not doing my job (which feels very wrong).
Today I reasoned with myself that it would be considered reasonable, for someone who is moving across the country, to take the last few days off 'work' during the transition. Even if this might be considered a job transfer…there would still be some down time because of the move.
Jac doesn't seem to mind. He has play time in the big indoor arena and has taken full advantage of it. I really should take a picture of him trying to play with the 'horse in the mirror' before we leave! He is tricky though because he stops when I open the door wide enough to take the photo.
Deep breath, then back to packing. My old countdown was to mark the day we move out, February 14th, but I may need to start a new countdown to the next time I ride!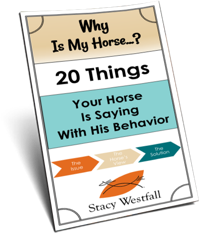 FREE PDF DOWNLOAD
WHY IS MY HORSE...?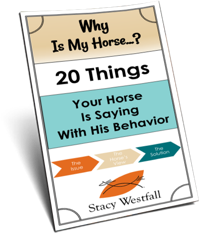 Free PDF Download "Why is my horse...20 things your horse is saying with his behavior"
PDF will be delivered to the email address you enter as will weekly tips from Stacy. Totally free. Unsubscribe anytime.