Every day this week Weaver Leather is giving away a different product that I have used during the Jac video series. Your response was so great when we did the first giveaway with the BIG RED BALL that Weaver agreed to do it again!
Today is another big red ball….tomorrow another great Weaver item!
Visit Weaver Leather's Facebook page to enter everyday this week! If you 'like' Weaver Leather's page you will automatically get the post about how to enter each day.
Oh, while your there maybe say thanks also…positive feedback seems to make them more interested in doing this again (hint, hint).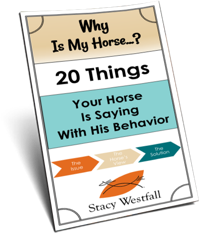 FREE PDF DOWNLOAD
WHY IS MY HORSE...?
Free PDF Download "Where is my horse...?"
20 things your horse is saying with his behavior.