"Hi Stacy,  In the Jac videos- Episode 9-you talked about the youthful stallion drive toward dominance and biting.  What is your opinion about hand feeding treats to horses?  I've seen other opinions stating that one should never hand feed because it puts us submissive to the horses while others disagree.  I've got 9 horses whose ages range from 24 to yearlings.  Two of my three yearlings like to try to get in my bubble to get at the treats, so I'm working on this personal space issue.  Interestingly, the two are stallions while the third more respectful youngster is a mare.  What's your opinion on treat feeding?  (PS  The other six in the herd take treats respectfully, although we have a special needs gelding who suffered brain damage due to an accident before we got him so care is needed feeding him because he's simply uncoordinated, even with his mouth!)"-Joan J.
I am not opposed to feeding treats to horses but I do set rules and conditions. Over the years I have made some observations that I turned into general rules that I use with my horses.
#1- You can't buy love…so don't try to with treats.
I want my horses to engage with me, respect me and, yes, even love me but I don't use treats to get this behavior. In fact, I don't use treats at all until the horse is already respecting me. As a general rule I don't give treats to a horse until they are pretty well trained both on the ground and under saddle. The age of the horse really isn't the key here, but rather the amount of training time. Personally, it is rare for me to feed treats to a horse that I have had in training for less than a year. I make exceptions to this occasionally based on the horses previous experience and individual personality but I would rather delay giving treats than start too early.
#2- Treats can be a distraction and get in the way of the relationship
One reason I wait to give treats is because it is possible for horses to become 'all about the treats.' If the horse becomes so focused on 'do I get a treat, now? now? now?' then it is a good sign that the treat is becoming a distraction. If relationship is what you are trying to build then you need to ask yourself if the horse is thinking about you…or the treat. If the answer is the treat then the relationship will suffer. Have you ever seen a child who was given more and more toys? Or expected a toy every time a parent returned home? The giver may have generated interest in the child through buying stuff…but usually with a cost to the relationship.
#3- The horses that demand treats…don't get them.
If a horse is searching the human for treats then it is likely that treat giving has gone too far. Too many horses cross the line from curious to demanding. This is usually the stage where biting begins to occur. Not all horses that are given treats progress to this stage but some do. Other horses can eat treats for years and never become pushy or demanding while others seem to become a problem after a short time. This is because the issue isn't really the treat…it is the individual nature of each horse coming out. The nature of the horse combined with the leadership of the handler is TESTED when treats are given.
#4-Treats can be used for a reward if respect is gained and not lost.
There are horses out there that benefit greatly from receiving treats. Ironically these horses often don't want treats. I am specifically talking about horses that have been trained with methods that discourage the horse from expressing themselves. I wrote an entire article about retraining these 'robotic' horses (click here) but I didn't go into detail about using treats. I use treats with these horses specifically because it breaks the structure of the way they have been handled by humans in the past. The treats give these horses the hope that humans may have more to offer them than work alone. In essence the treat is used to enhance the mood…a bit like the difference between a candlelight dinner vs florescent lighting.
If I had to sum up my strongest reason for using treats it would be that it can be fun for both the horse and the rider. I fed Roxy countless treats while hanging out or waiting around for our name to be called to show. I didn't give her any treats early in training. I never used them directly as a reward for a specific maneuver; for example I DID NOT ask her to spin and then give her a treat. I DID use them as we were waiting to show, sometimes for an hour, to keep ourselves entertained. We had both worked hard and then we both enjoyed a peppermint while waiting.
To sum it all up and give you the short answer: I do feed treats to horses…but only if they are respectful.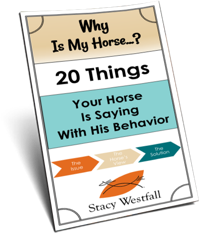 FREE PDF DOWNLOAD
WHY IS MY HORSE...?
No one taught you the skills you need to work through these things.
Riders often encounter self-doubt, fear, anxiety, frustration, and other challenging emotions at the barn. The emotions coursing through your body can add clarity, or can make your cues indistinguishable for your horse.
Learning these skills and begin communicating clearly with your horse.
Click here to learn more.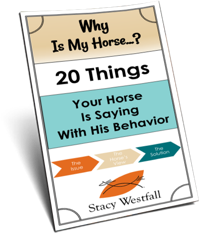 Free PDF Download "Why is my horse...20 things your horse is saying with his behavior"
PDF will be delivered to the email address you enter as will weekly tips from Stacy. Totally free. Unsubscribe anytime.