While moving out of our home in January I had to admit that I had a small problem with totes. Now, eight months later, as we moved into our Fleetwood, I somehow managed to convince my husband that I needed…more TOTES! I think he might remember my previous tote obsession because he tentatively asked 'how many' totes I wanted. I took this as a hint and started with two…for now:)
Although I am dreaming of camping with my horses later this month (maybe for my birthday-hint-hint-husband) I am currently camping in a parking lot. Although the view might not be ideal, the idea behind it is brilliant; educate, educate, educate. Today was all about getting to know the motor home with hands on training and tonight is a lesson in camping…in the parking lot. I have to admit that I wasn't sure how necessary this was…until I tried to flush the toilet a bit ago and almost couldn't figure it out, lol. Thankfully I didn't need to call in help but it is nice to know that if I needed to, I could.
I have so many questions, dreams and thoughts that involve living on the road that I actually woke up every hour last night, I felt like a kid waiting for Christmas morning. I'm so excited about our next horse show and especially the Congress which is coming up fast. Every year I have said I wanted to trail ride more…maybe now that can happen. Maybe its time to update my website to include a form for hosting a clinic; must have RV parking and four stalls. The possibilities are almost limitless.
Tomorrow is another learning day and then we will head back to Ohio. We aren't actually towing a trailer with the motor home…at least not yet…but we still have a horse with us!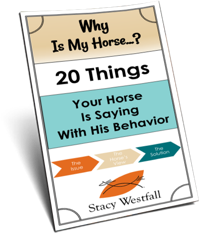 FREE PDF DOWNLOAD
WHY IS MY HORSE...?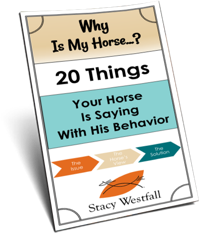 Free PDF Download "Why is my horse...20 things your horse is saying with his behavior"
PDF will be delivered to the email address you enter as will weekly tips from Stacy. Totally free. Unsubscribe anytime.